8.4 What is being done?
Policy documents
The Regional Policy Statement for Northland (RPS) provides an overview of resource management issues in Northland, including those with regard to coastal water quality. It contains objectives, policies and methods to achieve the integrated management of Northland's environment.
To achieve the objectives in the RPS the Council has developed a suite of policies and rules through its regional plans.
The Regional Coastal Plan for Northland (NRC 2004) includes rules that control the extent and type of discharges to the coastal marine area. These rules exist to help minimise the potentially adverse environmental affects of discharges on coastal water quality. This plan also sets out "Management Areas", in an effort to avoid conflict between uses in the coastal environment. The "Management Areas" of the coast are divided into six categories "protection, conservation, marine farming, moorings, port facilities and wharves", ensuring appropriate use of the coastal resource.
The Regional Water and Soil Plan for Northland (NRC 2004) and the Regional Air Quality Plan for Northland (NRC 2003) include rules that help minimise potentially adverse effects on coastal water quality resulting from cross boundary issues, such as subdivisions, earthworks and discharges to air in the vicinity of the coastal marine area.
Estuarine Monitoring Programme
The Northland Regional Council has commenced the implementation of the national Estuarine Monitoring Protocol (Robertson et al. 2002) programme (EMP) to assess estuarine habitat health and change over time. The EMP assesses changes in the fine-scale estuarine health and broad-scale estuary habitat composition over time. The fine-scale assessment involves routine sampling of a suite of characteristics relevant to estuarine condition, such as faunal and floral composition, nutrient and contaminant status and seabed sediment grain size characteristics. The broad-scale mapping of habitat characteristics is to determine the proportion of different habitat coverage within the estuary.
The main outcomes from the implementation of the EMP are:
Baseline assessment of estuarine sediment and ecological health.
Baseline assessment of habitat composition of estuaries.
Continued assessment of changes in estuarine health, based on the above factors.
Provision of quantitative data from which informed decisions can be made on the management of estuarine areas and activities impacting on these systems.
The output from the Estuarine Monitoring Protocol includes a digitised habitat map such as the example for Ruakaka Estuary below (figure 22).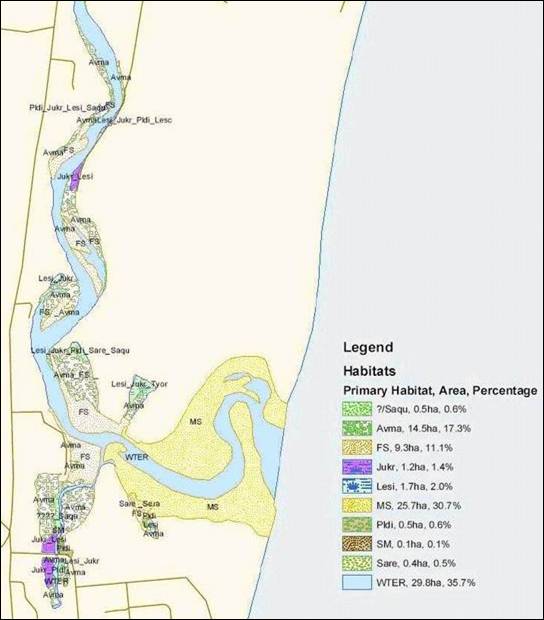 Figure 22: Digitised habitat map of Ruakaka Estuary showing results of broad-scale habitat mapping.
Aquaculture growing area water quality investigations
The Regional Council has recently appointed a new catchment management officer specifically to look at land use in catchments that may impact oyster growing areas. Their focus is mainly diffuse runoff from pastoral intensification, fine sediment loading and associated microbiological and nutrient inputs into wetlands, streams, rivers and harbours.
The impact of cattle on estuarine health is proving to be of particular concern in certain areas. Examples of these impacts include:
Bank erosion and pugging of the intertidal coastal margins and wetlands.
Grazing of coastal vegetation, including complete exclusion of coastal rushes from some areas.
Excrement from cattle, which affects water quality for downstream resource users and shellfish gatherers.
Farm riparian management projects such as riparian fencing and planting, land retirement from stock grazing, controlled grazing and enhancing habitat have been targeted for support by the Regional Council through the Environment Fund. Fencing stock out of the CMA is a priority.
Future work will include catchment management plans for areas such as Te Puna Inlet and Whangaroa Harbour with the aim of identifying existing land use pressures such as septic tanks; resident and visiting boats; farm runoff; flooding; subdivision growth; other local concerns and suggesting ways of managing these catchments for the benefit of all stakeholders.
Marine sewage pollution
A number of measures have been undertaken to reduce incidences of marine sewage pollution. These include:
· Introduction of the Marine Pollution Regulations and rules in the RCP, making it illegal to discharge sewage to coastal waters from vessels in certain locations, including most harbours and estuaries and extension of no discharge boundaries beyond minimum requirements for these areas.
· Resource consent requirements for installation of sewage pump-out facilities for new marina developments, and supporting, through contributions, the installation of pump-out facilities at existing marina areas.
· Supporting and lobbying for the use of lock-off seals on vessels' toilets or sewage discharge systems for 'live-aboard' vessels berthed in marinas.
· Summer marine pollution surveys and promotion of education materials at high-use maritime locations.
Stock exclusion from the Coastal Marine Area
The Northland Regional Council is actively promoting the exclusion of stock from the coastal marine area and riparian management through the Regional Coastal Plan for Northland. Access to and use of the coastal marine area by stock is set to become a prohibited activity by June 2009.
This rule is supported by the employment of a catchment management officer and the delegation of NRC Environment Fund's specifically for the fencing of riparian margins in the CMA.
NRC Environment Fund
The NRC Environment Fund is used to assist with funding projects that are designed to restore and enhance the natural environment, including coast care initiatives, the fencing of coastal margins, biodiversity enhancement and others.
Marine oil spill response
Protection of our marine environment from pollution is a high priority for Northland. Marine oil spills – even very small – are likely to cause environmental damage, have impacts on amenity values and interfere with the use of the coastal environment.
Having the oil refinery located at Marsden Point and the oil tanker movements to and from that facility, together with the large volume of ships that travel to and from the main ports of Marsden Point, Auckland and Tauranga right on our doorstep, makes Northland the most at-risk region in New Zealand.
Under law we are required to maintain a capability of oil spill preparedness and response. The Marine Oil Spill Contingency Plan for Northland provides a guide to assist with responding to a spill at a regional level, using regional-based equipment and manpower. Its primary objectives are to prevent further pollution and to contain and clean up an oil spill in a manner that does not cause further damage to the marine environment. In the event of a major incident, the response may escalate to a national level response whereby equipment and manpower resources from around the country and perhaps overseas would be sourced.
We have an experienced and well trained team of people and a large quantity of oil spill cleanup equipment ready to respond to marine oil spills at any time. Regular regional and national exercises are held to make sure the response team continues to receive ongoing equipment familiarisation training. In May 2007 about 40 experts from around New Zealand joined the Northland oil spill response team in Whangarei to participate in "Exercise Manaia 07" which was run over two days.
Fortunately, there have been no significant oil spills in Northland in the past several years and the frequency of reported marine spills in general has continued to decrease. This is largely the result a number of initiatives including the implementation of environmental and industry standards, the production of "voluntary codes of practice" and the provision of information and educational material.
We will continue to develop and improve our preparedness and response capabilities in the event that we will need to respond to a spill, whatever the size.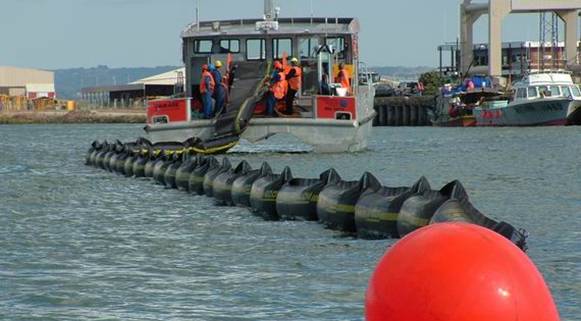 NRC boat 'Waikare' deploying a ro-boom during an oil spill response exercise at Marsden Point. (c) Northland Regional Council