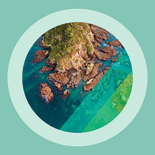 Looking for wind and wave data? Visit the wind and wave section of our new environmental data hub! It brings together data from our environmental monitoring sites into one handy location, making it easier to access and view data about Northland's environment.
If you regularly access our wind and wave data, we recommend updating your bookmarks to the new hub.
From December 2021, this wind and wave data page will be removed and you'll only be able to access the data through the environmental data hub. We've left this page live for now so people have time to move over to the new hub.
---
The Watchkeeper Met Ocean Buoy gathers real-time meteorological, oceanographic and water-quality data.
Northland Regional Council has installed a wind and wave data buoy offshore outside the Bay of Islands harbour, on the northern side of the Ninepin.
The buoy's positioning was determined with the help of an oceanographic specialist to ensure data is recorded by waves that have the greatest impact on the bay. It is also deployed relatively close for servicing purposes.
Please do not approach or fish near the buoy, as it is mounted with numerous delicate instruments that can be easily damaged.