Divers in bid to eradicate Opua fanworm
3 Dec 2018, 1:30 PM
A four-strong dive team has embarked on an initial $100,000 phase of a planned staged attempt to try to rid as many unwanted Mediterranean fanworm as possible from the Opua area in the Bay of Islands.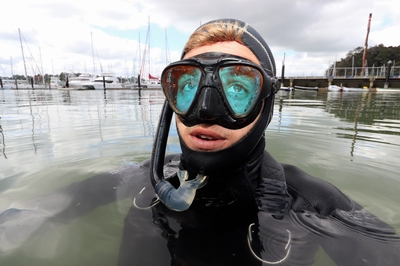 On the hunt…Paihia-based commercial diver Lars Foelsche is among a team of divers attempting to rid the Opua area of unwanted Mediterranean fanworm.
The eradication effort is being led by the Northland Regional Council, with support from Biosecurity New Zealand (part of the Ministry for Primary Industries).
Don McKenzie, Biosecurity Manager, for the Northland Regional Council, says contractors discovered a single specimen of the marine pest while working in the Opua area in early July.
The Mediterranean fanworm (Sabella spallanzanii) is unwanted because it can quickly form dense colonies, forcing out native species and interfering with their ability to feed and breed. (Sabella have also been found growing on scallops in Whangarei Harbour and have the potential to spread onto other shellfish.)
Mr McKenzie says divers were immediately called in to investigate the July Bay of Islands find, discovering – and removing – more than 100 fanworm from the Opua Marina and the surrounding area over the next several weeks.
"The divers were then stood down as biosecurity experts analysed the findings and considered the best management approach, with the maturity, numbers of fanworm and their spread indicating they may have been in the area (probably having hitchhiked in on a visiting vessel) for several years."
Members of the Northland Regional Council had subsequently committed $60,000 towards a roughly month-long, weather-dependent effort to try to eradicate the pest. Once finished, results from the latest eradication attempt will be reviewed again before further work is considered.
Mr McKenzie says that as well as council funding to help pay for the Commercial Dive Specialists team's time, Biosecurity New Zealand was also contributing $40,000 towards the current removal attempt, which began Thursday, 29 November.
"Essentially, this is a 'step-wise' eradication approach, with a review at the end of each round of diver search and destroy effort to consider what progress has been made and whether continued work is justifiable both economically and practically."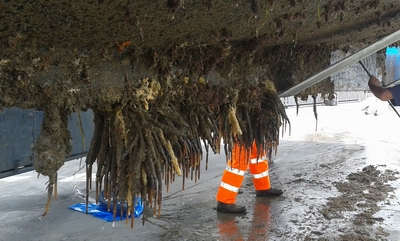 A file shot of a boat discovered in Tauranga with a heavy Mediterranean fanworm infestation.
He says given how long it appears the fanworm may have been there and the fact that they have been found over several individual sites, no-one involved is under any illusion as to the scale of the task they face.
"However, our councillors and Biosecurity New Zealand felt that given the importance of the Bay of Islands across multiple fronts – including environmentally, economically and culturally – they could not pass up what may be our only real opportunity to attempt to rid the area of fanworm." 
Mr McKenzie says the council is grateful for that financial and other support from Biosecurity New Zealand. 
"Even if ultimately eradication is not possible, in the circumstances and given the fact the Bay of Islands is such an environmentally high value area, we have to at least try," Mr McKenzie says. 
The council is reiterating its earlier messages to boaties that it's vital to ensure their vessel and any associated equipment – moorings and their rope/chain and fishing nets – is clean and free from fouling which may contain marine pests like fanworm.
"Under regional council rules, it's an offence to transport marine pests in Northland."  "Vessels entering Northland and moving between harbours must have no more than 'light fouling' on their vessel."  (Light fouling is classified as a slime layer and/or barnacles, and up to five percent macrofouling).
Mr McKenzie urges people encountering marine pests to notify the regional council as soon as possible by phoning (0800) 002 004 or emailing [email protected] or by calling Biosecurity New Zealand's Pests and Diseases hotline on (0800) 809 966. 
Information on a range of marine pests can be found at www.nrc.govt.nz/pestcontrolhub or www.marinebiosecurity.org.nz 
The council's rules and marina requirements can be found at www.marinepests.co.nz