Looking after your mooring
Advice to moorings owners
Swing mooring owners should regularly check moorings for damage or deterioration to the head rope and anti-chafe hose. Pile mooring owners should ensure mooring lines are in good condition and a suitable size.
Every vessel occupying a mooring must display the owner's contact cellphone/email, so you can be contacted if there's a problem with your vessel.
Any substandard or damaged buoys must be replaced.
Moorings must not be relocated without prior written approval from Northland Regional Council. If you move your mooring without permission, you will be fined and billed to return the mooring to its designated location.
The correct mooring number must be clearly inscribed on the mooring buoy, in numbers not less than 30mm high.
Vessels larger/longer than the authorised licence length can't be placed on moorings without the Regional Harbourmaster's prior approval.
If your contact details change, please inform the Northland Regional Council immediately.
Red tag
A red tag placed on a mooring would have been placed there by the Harbourmaster's Office if the mooring is unsafe to use. This will usually be because the mooring is out of service.
For specific information or if you have any queries, please call the Harbourmaster's Office during standard office hours on 0800 002 004 or email:  [email protected] and quote the mooring number.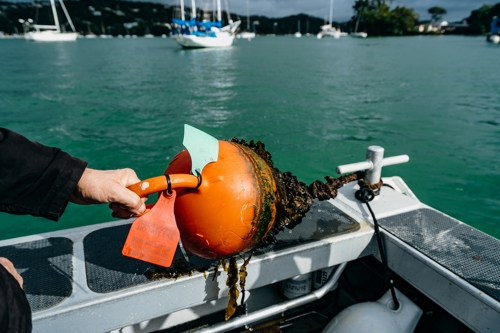 The red tag shows this is an unsafe mooring, and must not be used. 
Mooring failures
There have recently been some cases of mooring failures due to the top ropes being damaged by twisting against the lay of the rope. Mooring systems employing Fergie buoys or similar (where the top rope passes through the buoy) with three-strand rope appear to be more prone to this problem. Such mooring systems should, as a minimum, be fitted with a swivel between the top rope and the intermediate chain to alleviate twisting, and it is advisable to have an additional swivel fitted above the buoy. However, swivels may not always run freely enough to eliminate the problem.
Mooring owners using Fergie buoys or similar are urgently advised to check their top ropes for any signs of twisting or hockling (where the rope eventually folds back on itself), which will weaken the rope and may even allow any splices to slip free. Using multiplait rope is preferable with these types of buoys, as the splices will not unlay when twisted.
The regional council's mooring contractors are aware of the potential problem. Any mooring owner who has evidence of this happening should contact their respective mooring contractor.
Generally, top ropes are the most frequent source of mooring failure, and should be checked regularly for any signs of wear, chafing, twisting or other damage.
Mooring inspection and construction guidelines
Inspection and construction guidelines were introduced to improve the standard of moorings in Northland and reduce the risk of mooring failures.
The guidelines are mainly for use by contractors and those involved in the mooring maintenance industry. They also contain requirements for owners of pile moorings.
The swing mooring table (below) is an extract from the guidelines, for mooring owners.
Download the Mooring Guidelines 2012 - swing mooring table (PDF, 69KB)
Mooring contractors in Northland
Abel Moorings/Abel Marine Services Limited
PO Box 894, Kerikeri 0245
Contact: Robyn Davenport, Administrator
M: 021 025 00542
P: 09 407 7770
E: [email protected]
W: abelmoorings.nz