4.6 Case study 1:Pollution prevention for vehicle washing
Northland Regional Council carried out a pollution prevention programme targeting Whangarei businesses whose activities included washing of vehicles. Businesses evaluated included car valets, rental car providers, transport operators, coach operators and car sales.
The primary aim of the programme was to determine which businesses were discharging to stormwater, and to educate those businesses regarding the potential environmental impact of their washing. Other areas covered were use, storage and disposal of hazardous substances (such as solvents, oil and coolant) and any other waste issues identified during the site visits.
What was done?
A checklist was developed to identify and rank the potential environmental impacts of the washwater discharge. Each business was visited initially and if the environmental risk was deemed low or non-existent then no further visits were required. Those sites identified as having potential for environmental impact through discharge of contaminants to stormwater were informed during the visit of the Regional Water and Soil Plan rules pertaining to this, and requested to find a viable alternative to their current practices. This was followed up in writing.
Alternatives promoted were as follows:
· Washing with water only was deemed acceptable if vehicles were generally clean (i.e. car yards) or numbers were sufficiently low.
· Discharge to sewer and application for a Trade Waste Consent (TWC) with Whangarei District Council where appropriate.
· Washing on permeable ground where there was sufficient on-site wastewater retention, allowing time for any detergents used to break down. (This option was only suitable for activities that did not involve washing of oils or other contaminants off vehicles).
· Onsite retention in a holding tank and removal by an approved liquid waste company.
Follow up phone calls and visits to non-compliant businesses were made and are currently ongoing.
What were the results?
Through the programme 59 businesses were identified and visited. A summary of the initial findings from the first visits is given in Figure 5: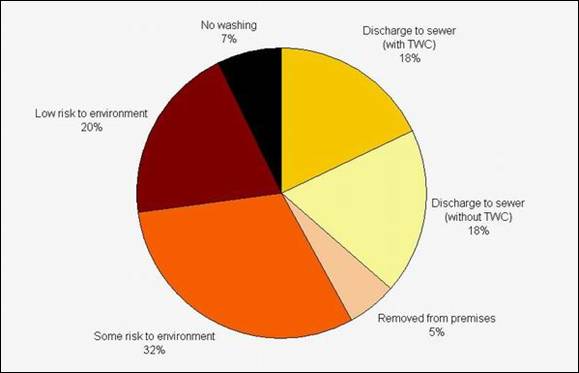 Figure 5: Initial results from visits to 59 businesses.
From figure 5 (above) it can be seen that 32% of the sites have potential to have adverse effects on the environment and therefore were classed as non-compliant. These results are consolidated in figures 6 and 7 (below). Figure 7 shows the changed practice in businesses once notified of their non-compliance.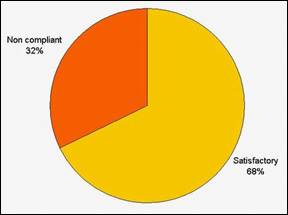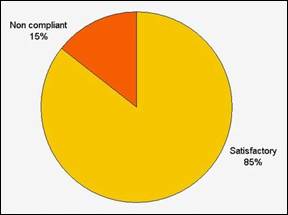 Figure 6 (left): Compliance rate after initial visit. Figure 7 (right): Compliance rate after follow up.
Figures 6 and 7 show over 50% of non-compliant sites became compliant after the first visit. Of the remaining non-compliant sites, all undertook to comply (largely by washing solely with water) and periodic inspections will be undertaken to evaluate progress.
The major misconception encountered during this programme was that the use of biodegradable detergents has no adverse environmental effects. This is promoted to some extent by the detergent manufacturers, and in many cases businesses thought they were being "green" by using these. Although their use is preferable to non-biodegradable phosphate-based detergents, studies have shown that they still have oxygen-depleting effects on receiving waters.