Removing problem trees to build Northland's resilience and warm it's people
4 Sep 2023, 9:55 AM
Source: Northland Civil Defence Emergency Management Group
---
A new collaborative project has arisen from the aftermath of Cyclone Gabrielle, which aims to build Northland's resilience to future adverse weather events by tackling the problem of fallen and at-risk trees.
The $6.5 million project, Ngā Manga Atawhai, pulls together groups from across government, councils, iwi, and the private sector to enable the removal of dangerous trees, while ensuring the majority of the wood doesn't go to waste, by processing it and providing it to low-income whānau as firewood to warm their homes.
Northland Civil Defence Emergency Management Group Chair Kelly Stratford says that many of the issues Northlanders experienced from Cyclone Gabrielle were due to fallen trees.
"After Gabrielle we saw 64,000 Northlanders without power, the largest outage our power network has ever seen and most of those outages weren't due to network issues, they were due to trees that had fallen onto powerlines."
The impact of these outages was felt by many Northlanders, with some areas having outages for two weeks or more.
Apart from the impacts on food storage, cooking, and heating, the loss of power also took out much of the phone network - severely limiting Northland's communications.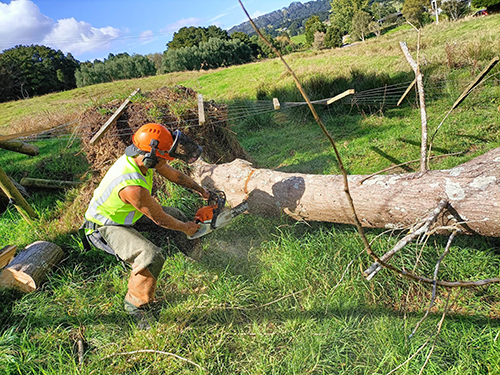 Te Roroa kaimahi processing a fallen tree as part of the Enhanced Taskforce Green project.
The impacts to Te Taitokerau from fallen trees didn't stop there. Tree falls also caused issues on the region's roads, with Northland's three district councils reporting over 900 combined call outs in relation to fallen trees impacting local roads post Cyclone Gabrielle.
Stratford says that even though the power companies and roading agencies did an amazing job restoring these services, there is still work to be done when it comes to problem trees.
"Even though the immediate work has been done, hundreds of trees remain fallen under existing powerlines or next to roads and rivers, and thousands of standing trees remain at risk of falling over our roads, rivers, and powerlines - that's why this kaupapa is so important",
She also emphasised that only trees that have already fallen or are causing a risk to powerlines or other infrastructure are being targeted by the project.
Stratford said the idea for the project came out of the Northland Civil Defence Emergency Management's community consultation for Cyclone Gabrielle recovery - where many people spoke of the effects of being without power for an extended period.
"At this time, the recovery efforts in Northland were also seeing the great success of the Enhanced Taskforce Green project, which is funded by Ministry of Social Development, and delivered on-ground by Te Roroa. Much of their work involved processing downed trees for our rural communities.
Then, we started hearing about more trees that had been left by roadsides and were down in rivers. It made sense to bundle this up into one project - to process trees near powerlines, roads, and rivers, and make the wood available to low-income whānau for free."
Te Roroa will lead on-the-ground delivery of the project, with $1 million of funding secured from the Ministry for Primary industries to get things underway - with more funding sought from central government.
The model is based on a portion of the firewood being sold commercially for the first two years, with the majority being given away to low-income whānau - after that, the project should be self-funded.
Stratford added that the Ministry for Business, Innovation and Employment's Energy Hardship Expert Panel, and regional projects such as Manawa Ora Healthy Homes Initiative, identified that many whānau of Taitokerau experience 'energy poverty'. Some households have woodstoves but lack resource to purchase firewood.
Firewood bins ready to be distributed our to community and whanau in need.
Te Roroa commercial operations manager and project lead Lindsay-Jon (L-J) Clark said that Northlanders are a resilient bunch, but our rural communities have been hit hard.
"This project enables us to continue to assist our community and solves many of our needs within the same kaupapa."
"It helps our power companies keep power on by removing problem trees, it helps our farmers, growers and the rural sector prevent tree / material buildup in streams and rivers - which causes more flooding and a loss of land use capacity."
"It helps to solve energy poverty within our community, meaning warmer and drier homes and more money on the table for other necessities."
"It also helps employ and upskill our local community members in an otherwise 'employment scarce' region through our partnership with MSD. The team will employ and train rangitahi and out-of-work forest kaimahi, some of which have already began this process through our previous Enhanced Taskforce Green mahi."
"We're not solving world peace; but this project has far-reaching and dynamic return on investment on many levels."
Ngā Manga Atawhai's mahi will commence shortly after a September 8 pōwhiri launch - which will see stakeholders from many of the agencies come together for the project's blessing.
The initial on-the-ground work will focus on processing trees already removed by Northland Regional Council from 70 locations across 25 rivers around Northland.
Ngā Managa Atawhai is supported by Northland Civil Defence Emergency Management Group, Te Roroa Commercial Development, Northland Regional Council, Kaipara District Council, Far North District Council and Whangārei District Council, Te Kahu O Taonui, Northpower, Top Energy, Waka Kotahi NZTA, Rural Support Trust, Manawa Ora Healthy Homes Initiative (Te Whatu Ora), Ministry of Social Development, Ministry for Primary Industries, plus Ministry for Business, Innovation and Employment.