CityLink users offered free 'Bee Card' until 31 August
24 Jul 2020, 9:36 AM
Whangarei's CityLink public buses are now able to accept a new contactless 'Bee Card'. Bee Card is a new prepaid card, also being adopted by a number of other regions around New Zealand as part of a move towards a cashless society.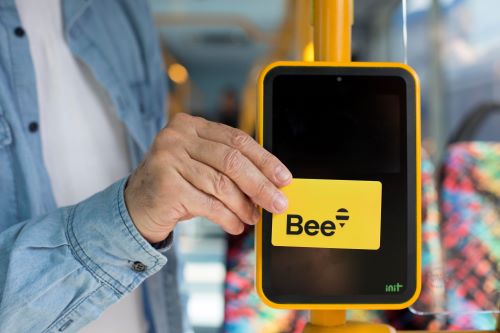 Bee Card…Tag on by holding the card to the reader and tag off when you leave.
The card has been locally customised in a bid to offer passengers a faster, more convenient service.
CityLink is operated locally by transport operator Ritchies and administered by the Northland Regional Council (NRC).
Regional council member John Bain (one of two councillors who represents the NRC's Whangarei Urban constituency) says the Bee Card system has been updated and customised for Whangarei's needs at little additional cost to ratepayers.
Dean Mitchell, the regional council's Transport Project Officer, says local trials of the card began in October 2019.
"Everything possible is being done to ensure a smooth transition, but the change will require some adjustment for those who make an estimated 6000-plus bus trips on the bus fleet each week."
While cash will still be accepted on CityLink buses, Bee Cards should make boarding faster and easier for passengers.
The cards can be ordered, activated and topped up online via: www.beecard.co.nz (The site includes frequently asked questions including information on how users can register their cards to help protect their remaining prepaid balance if their card is lost or stolen.)
Mr Mitchell says a Bee Card 'Auto Top Up' feature will also be available soon and people should keep an eye on the website for details.
"'Auto Top Up' ensures you'll always have enough balance on your Bee Card to pay your fare. If your Bee Card balance is below your selected threshold amount, your card will automatically top up with your nominated value."
Councillor Bain says to help people get started with the Bee Card, the card fee for online orders will be waived until Monday 31 August, after which Bee Cards will cost $5.
Mr Mitchell says the cards will also be available at the Rose St bus terminal (staff are available to top up Bee Cards Monday to Friday from 7.30am to 5.30pm) and from the regional council's Water St offices during office hours.
While SuperGold Card holders can still use their SuperGold Cards for free travel until 31 August, it's expected that then they should all have been issued with a new, free Bee Card. (From 31 August, the Bee Card will replace the SuperGold Card and need to be used for the free travel part of the day.)
Mr Mitchell says many people had recently swapped to contactless cards for day-to-day shopping as part of the pandemic response. However, one important distinction between them and a Bee Card was that the latter needs to be held still at the reader until Tag On/Tag Off message is displayed, rather than just waved or swiped.
"Cardholders simply need to tag on by holding the card to the Bee Card reader as they board the bus and tag off when they leave."
"This allows the correct fare and discount to be calculated and also provides an up-to-date balance."
Other benefits of the Bee Card system include the ability to manage more than one card per account, administrative efficiencies and a clearer picture of demand to assist officials in future planning.
"There will also be less cash carried on board, reducing potential security and hygiene risks."