Pop-up stalls offer early chance to influence 10-year plan
6 Aug 2020, 12:57 PM

A series of informal pop-up stalls around the region this month offer the public an early chance to influence the shape of the Northland Regional Council's (NRC) Long Term Plan (LTP) 2021-2031.
Chair Penny Smart says the council is starting to develop its plans for the next LTP now and the community pop-up events offer people a great chance to have a chat to councillors/staff about the things the NRC should be focussing on.
"Like all councils, we have to work out what the priorities are, what services we can deliver and, of course, how it's all paid for. Planning for the next three, 10 and even 30 years is always a real balancing act, but that's especially true in these challenging times."
Chair Smart says public input about the things most important to them will help steer early development of the plan but points out there will be another chance for feedback when council formally consults on the plan in March/April next year.
The first pop-up event was held in Kaikohe at the Far North Business & Events Hub on Wednesday, 05 August with others still be held as below:
Whangārei: Saturday 08 August (7am-10am), Whangārei Growers Market
Waipu: Sunday 09 August (9am-1pm), Waipu Markets
Kerikeri: Saturday 15 August (8am-1.30pm), Old Packhouse Market
Paparoa: Saturday 15 August (9am-noon), Paparoa Village Market
Whangārei: Saturday 22 August (7am-10am), Whangārei Growers Market
Kaitaia: Saturday 22 August (8am-noon), Kaitaia Farmers Market
As well as the pop-up events, the council is also encouraging online feedback via: www.nrc.govt.nz/futureplan
The council's Strategy, Policy and Planning Manager Kyla Carlier says the link offers people the chance to join an online conversation and share the things that matter most to them, as well as a 'sign-up' option to keep abreast of the latest LTP developments.
"We've added some things we think are really important – you can vote on these or add your own comments for others to see."
Chair Smart says the council will be developing proposals for the LTP over the coming months, ahead of formal consultation early next year.
Public consultation will be held in March and April, with the council expected to deliberate the plan and make decisions in May before finalising and adopting the LTP in June.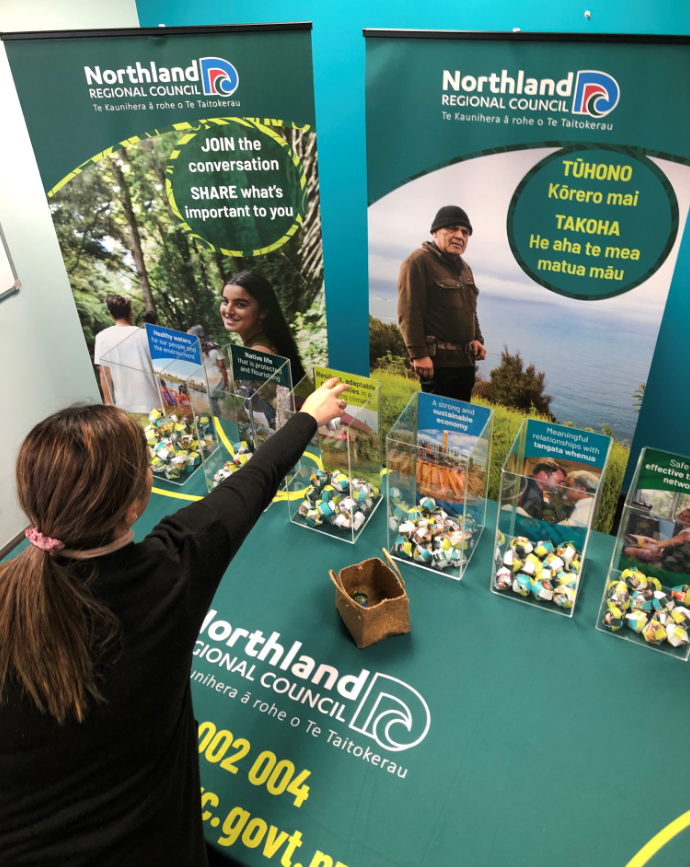 Have an early say on LTP… the NRC is encouraging people have a chat at a local pop-up event or join an online conversation.