Northlander named national biosecurity 'emerging leader'
11 Nov 2019, 8:00 AM
A promising pest management career that has included extensive work to help turn the tide on Northland's dwindling kiwi populations has been recognised with a national award.
Kane McElrea, the Northland Regional Council's Biosecurity Manager – Partnerships and Strategy, edged out two other finalists from Land Information New Zealand and AgResearch to clinch the 'emerging leader' award at the recent New Zealand Biosecurity Awards in Auckland.

The Monday 04 November awards recognise and celebrate outstanding contributions to the nation's biosecurity and Mr McElrea, from Whangarei, says he's thrilled with the honour, which is even more special as it was made by his biosecurity peers.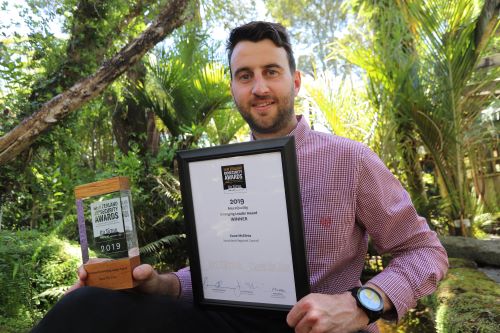 Northland Regional Council's Biosecurity Manager – Partnerships and Strategy Kane McElrea…winner of the 'AsureQuality Emerging Leader Award' at the recent New Zealand Biosecurity Awards.
Mr McElrea says he enjoys his role and being able to support and work with Northland communities to protect and improve the region's shared environment.
"In a relatively short time we're already beginning to realise the benefits of those communities' hard work," he says. "We're seeing more kiwi and other native wildlife starting to become more abundant in places where people are working collectively hard to restore and protect the environment."
Mr McElrea was described at the awards as an 'outstanding' person who over the past 10 years had used a farming background and formal environmental education to forge sustainable community and iwi-led biosecurity programmes, particularly to help protect Northland's kiwi.
Council chair Penny Smart says in his current role, the 31-year-old leads major pest management programmes, demonstrating great leadership skills at a relatively young age. (One of the award's criteria is that potential recipients must be under 35 years old as of late-July this year.)
"Kane is also able to realise the potential of others around him in an engaging and positive way and these leadership qualities transfer to his ability to work successfully with Northland's often diverse communities against common biosecurity foes."
Mr McElrea, who has a Bachelor's degree in Applied Environmental Science and a marine science diploma, has previously worked with the Auckland Council's open sanctuaries and has more recently been involved with several national biosecurity responses, managed pest incursions (including koi carp) and supported marine pest surveillance programmes.
Chair Smart says biosecurity is an integral part of the regional council's work and it's great to see staff recognised for their efforts on behalf of their fellow Northlanders.
"It's definitely not an easy job and as Northlanders we can all be very proud of Kane and his colleagues for the biosecurity work they're putting in day in and day out – often in quite trying conditions – on behalf of the wider community."
Meanwhile, Chair Smart – who lives in Kaipara – has also offered her own, as well as the regional council's, congratulations to Te Roroa Commercial Development Company, which was also recognised at the biosecurity awards.
The company was awarded the 'New Zealand Biosecurity Department of Conservation Community Kahiwi Award' for its Kauri Dieback Response Plan.
Te Roroa's work in the Waipoua Forest also saw it receive one of the council's own inaugural regional Environmental Awards – the Environmental Leadership category – when they were held in Whangarei in May this year.