Year-long trial for 'Bream Bay Link' public transport service
18 Jul 2019, 10:10 AM
A new weekly public transport service covering the area from Kaiwaka to Ruakaka is to begin a 12-month trial in August.
'Bream Bay Link' – operated by locally-based Leabourn's Passenger Services – will be the latest service to join the 'Link' family in Northland; already home to Far North Link, Mid North Link, Hokianga Link and CityLink Whangārei.
The new year-long trial – which begins on Thursday 01 August – follows a number of public requests for such a service and will offer both one-way and return trips on Thursdays costing between $5 and $10 initially. A 30-seater bus is planned for use on the trial service.
The Northland Regional Council (NRC) earmarked $200,000 for three trial services in the Whangārei District as part of its Long Term Plan (LTP) process last year and national road funding body NZ Transport Agency has agreed to subsidise 54 percent of the Bream Bay trial.
Regional council Transport Strategic Planning Officer Sharlene Selkirk says the success of the trial will very much depend on the public support it enjoys, with both the NRC and its Whangārei District counterpart keen to see increased use of passenger transport generally in the area.
"We'd really like people to tell us what they think of the service, what might be useful to them and what more we can do with this trial to help us improve it as we go."
The regional council is also encouraging feedback to be emailed to [email protected] in the first instance.
Ms Selkirk says while there will be a formal review at the end of January and April next year, "there's definitely flexibility to make changes before then based on feedback as we need to; that's the point of a trial service".
She says supporting information about the service (including timetables and associated posters) is currently being finalised and will be available shortly from www.buslink.co.nz
Leabourn's is an experienced operator which used to run its own, unsubsidised monthly shoppers' service to Whangārei, but was forced to withdraw it three years ago when it became commercially unviable.
Whilst the original proposal was to operate the trial service between Waipū and Ruakaka to Whangārei, Leabourn's, at its own cost, will extend the service to include Kaiwaka and Mangawhai, thereby giving back to the community it has served for many years.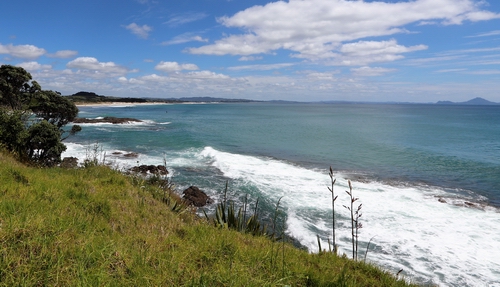 Bream Bay viewed from the Waipu Cove walkway.
Ms Selkirk says the company's experience underscores the important of the public support from users.
As it currently stands, the new weekly Thursday trial will follow a route that takes in Kaiwaka/Mangawhai Rd, Molesworth Rd, Mangawhai Heads Rd, Cove Rd, The Centre Waipu, Nova Scotia Dr, SH1, Marsden Point Rd, Peter Snell Rd, Marsden Point Rd, SH15A, SH 1, Otaika Rd, Maunu Rd, Walton St and Whangārei's Rose Street Bus Terminus.
One-way trip costs will vary from $5 to $7 and return trips from $7 to $10.
"Unfortunately, SuperGold card holders will not be able to travel for free at this point as we need to get an idea of passenger numbers/demand so we can seek formal approval from NZTA for the SuperGold service to be included."
She says the trial service will not take in One Tree Point due to the amount of time it would add to the total trip time overall.
Currently, the service will leave from the Kaiwaka Hall at 9am on a Thursday and is expected to arrive at the Rose St terminus at 10.50am. The return journey will leave from Rose St at 3pm and is scheduled to arrive back in Kaiwaka at 4.50pm.
However, there is also some flexibility, with intending users who would like to be picked up elsewhere along the route able to phone Leabourn on (0800) 994 404 on Wednesday (the day before they want to travel) to arrange this.
Meanwhile, Ms Selkirk says of the other LTP funding set aside for bus trials in the Whangārei District, a proposed Hikurangi service didn't proceed after the party the council was negotiating with pulled out at the last minute. Work is however continuing to find an interested party to operate this trial service.
Planning continues for the proposed introduction of a Whangārei Heads trial services. As yet, no definite date for implementation has been set.