'Sticky pulled wild pork hawker rolls' latest field days treat
21 Feb 2019, 9:34 AM
Fun food, fancy name - but a serious message.
That's the idea behind the 'sticky pulled wild pork hawker roll' – this year's wild food treat to be given away by the Northland Regional Council (NRC) to attract visitors to its marquee at the upcoming February 28-March 02 Northland Field Days.
A joint creation by the NRC, NorthTec Level 4 cookery students and their tutor Hughie Blues, the roll 'with a taste as big as its name' is a delicious mix of wild pork, watercress, kawakawa tea & ginger mayo.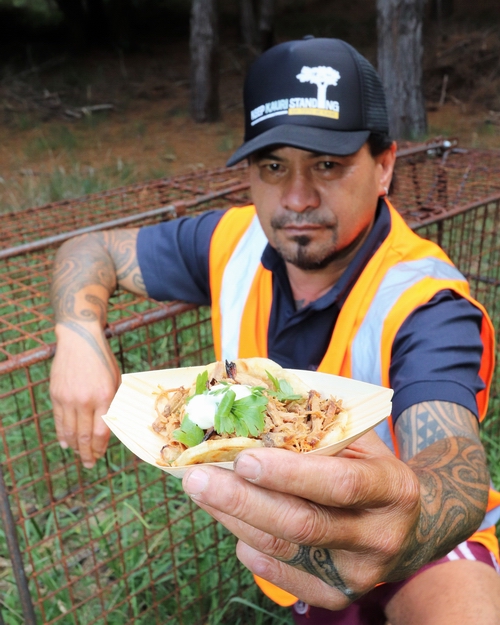 Fun food, serious message…Warren Morunga, Biosecurity Officer - Wild Animal Control, with a wild pork roll similar to those the regional council plans to give away at the upcoming Northland Field Days. He's leaning on a feral pig trap deployed at Whangarei Heads.
Kaipara constituency representative Penny Smart says over the past few years the council has transformed a variety of pest animals, plants and even insects into an array of edible treats all designed as a fun way to spark added public interest in its broader work at the Dargaville event.
Last year's giveaway was wattle seed-flavoured ice cream, with previous offerings including rabbit rissoles, burgers, pies and pate all made from possum, wild pork, venison and goat meat pies, rabbit sausages and even wasp larvae ice cream.
Councillor Smart says while the council appreciates wild pork is a valued source of free food for some Northlanders, feral pigs also pose potentially serious threats to the region across multiple fronts, including environmentally and economically.
Wild pigs can also be a potential vector for kauri dieback disease, which the regional council has invested large amounts of time and resources into trying to control.
"Pigs can also be quite physically destructive, digging up the ground in bush and pasture areas while hunting for food," she says. "And they can also opportunistically prey on ground-dwelling animals, including birds (and their eggs) and other natives including snails, lizards and frogs."
Councillor Smart says the NRC had teamed up with the hospitality students last year to create the wattle-seed ice cream and she's delighted the two organisations are able to collaborate again this year for the field days, a sentiment echoed by Phil Alexander-Crawford, NorthTec's Director Development.
"It's another chance for our Level 4 cookery students to work on something a little bit out of the ordinary and they and Hughie will be on site over the three days preparing and serving the food," Mr Alexander-Crawford says.
"It's always good for our hospitality students to get out and about, catering at events and gaining experience which will help them get into a great career."
Councillor Smart says the council expects to give away about 1500 rolls over the three days of field days from the council's usual location, site 251 on 'Fonterra Road'.
"If you're keen to give one a try, the best time to visit us at site 251 is either at 10.30am, 12.30pm or 2.30pm each day."
She says aside from the rolls, the council will have information and advice on various aspects of its work, including improving water quality, eradicating pests, controlling weeds, protecting kauri and funding for fencing.
Specialist council staff across a range of fields will be available to offer advice or chat about land and other issues people may have and several councillors also plan to attend.
"This year you'll also find a number of community groups sharing our site space, including the Integrated Kaipara Harbour Management Group and Kiwi Coast."
"We'll also have representatives from the Million Metres streams project, Nga Uri O Hau Native Nursery and MPI's kauri dieback team attending".
For more information about council's presence at field days – including giveaways – check out its Facebook page: www.Facebook.com/NorthlandRegionalCouncil