Less than one year left for Otuihau-Hatea water quality project
17 Apr 2019, 10:40 AM
Landowners with properties upstream of the iconic Whangarei Falls are being urged to take advantage of a three-year project to improve water quality in the area as the initiative enters its final 12 months.
The jointly funded Northland Regional Council-Ministry for the Environment project technically runs until 31 March next year, but its backers say given any work financed under it needs to have been completed and signed off by that date, to all intents and purposes the actual deadline will be late-February.
The regional council's Deputy Chair, David Sinclair, says those keen to apply for funding can drop by an upcoming Saturday 04 May open day at Whangarei's Farmlands Kamo to learn more about what's involved.
"This 9am until noon event is a great way to kick start your funding application as well as learn about planting site preparation and weed and pest control."
Lorna Douglas, the regional council's Eastern Coast Land Manager, says a total of 32 funded projects have been completed over the past two years. That included nine kilometres of streamside fencing completed, almost 4200 new plants in the ground and installation of 17 stock troughs as of the end of March this year.
The three-year, $400,000-plus project focusses on improving water quality by;
Contributing funding for riparian fencing and planting
Contributing to stock troughs where needed to help enable fencing
Signage at the falls reserve to help educate the community on the values of the water there and what people can do to help.
A broad community group oversees the project, including the regional council, its Whangarei District counterpart, Whitebait Connection, Pehiaweri Marae, Tiki Pride (Tikipunga Community Development Trust) and the Northland District Health Board.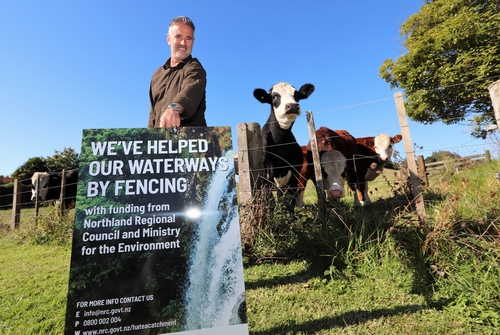 Northland Regional Council Deputy Chair David Sinclair with a sign about to be erected on a Three Mile Bush Rd, Whangarei, property whose owner has already taken advantage of fencing funding to help improve water quality.
Ms Douglas says the catchment above the falls is a reasonably small one of about 4000 hectares, which runs as far north as Snake Hill and west up Three Mile Bush Rd to Cowshed Lane and east along Ngunguru Rd to Harris Rd.
The area is well known, with the location just above the 26-metre high Whangarei Falls a popular freshwater swimming spot – especially over summer – for many years.
"However, it has struggled with water quality issues – especially relating to recreational bathing standards – for years, including the most recent summer."
Livestock and wildfowl have all previously been identified as key sources of bacteria in the water there, with this year's hot summer and lower water flows also likely to have impacted water quality.
Councillor Sinclair says fencing stock away from waterways can not only help reduce bacterial levels, it also lessens the amount of sediment finding its way into the water from streambank erosion, which can improve water clarity too.
He says stronger rules proposed by the Whangarei Harbour Catchment Group to help improve water quality are also due to come into force within the next couple of years under the council's Proposed Regional Plan.
"These will also help, as they will legally require landowners to fence stock out of waterways upstream of a number of identified swimming sites, including Whangarei Falls."
He says with roughly a year to run at most, the scheme's backers are encouraging as many eligible owners as possible to take advantage of it.
"That fund most likely won't be available after the end of this project, so landowners may have to fund the fencing themselves to be compliant with new regional rules and avoid potential compliance/regulatory action."
Ms Douglas says those wanting to check potential eligibility for scheme funding should contact her on (027) 672 0005 or email [email protected] or come along to the 04 May open day.
She says when the scheme first began, letters were sent to the owners of more than 100 properties (covering more than one hectare of grassed land and which had a mapped waterway on them) inviting them to apply for funding.
Some had subsequently turned out to be industrial properties and/or private properties with a large lawn and no stock, leaving about 60-70 landowners who were potentially eligible for scheme funding. "Their properties range in size from just one hectare all the way up to 50-70ha."
The owners of most of the larger properties were largely 'on board' with the scheme and had either already completed their fencing or were working with council to achieve it.
"The outstanding owners we're now keen to target ahead of next year's funding cut-off are typically small lifestyle block owners." "I suspect their relative lack of uptake so far is attributable to a combination of time pressures and the current lack of mandatory fencing rules in the area."
Ms Douglas says now's a good time for those landowners to take advantage of the available funding to help them become compliant ahead of new rules at limited cost.
"It's also worth bearing in mind that this autumn and winter is also the last planting season that funds will be available to cover the costs of the plants involved."