New council kauri dieback team in place
23 Nov 2018, 11:17 AM
A new dedicated three-strong team is bolstering Northland Regional Council (NRC) efforts to protect the region's kauri from incurable dieback disease.
Government agencies, councils, iwi, scientists and researchers have been working to learn more about kauri dieback – and Phytophthora agathidicida, the microscopic pathogen that causes it – since its discovery about a decade ago.
The pathogen infects kauri roots, starving trees to death and is thought to be present over most of Northland, including ecological jewels like Waipoua Forest.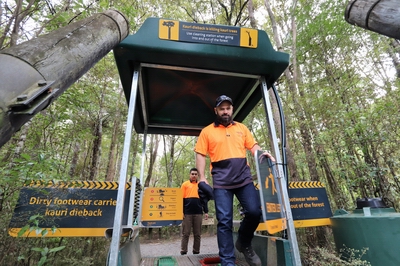 Biosecurity Officer Gavin Clapperton emerges from a dieback footwear cleaning station in Whangarei's AH Reed Memorial Park. Colleague Adrian Peachey, another new member of the regional council's kauri dieback team, is behind him.
Council chairman Bill Shepherd says the NRC has been providing advice and assistance to many private Northland landowners who have reported trees with kauri dieback symptoms for several years.
"We've been working with them on tailor-made kauri dieback management plans to try to lessen the risk of this disease spreading from private land and district council reserves.  We're also training landowners to identify symptoms and report these."
The regional council is a member of the multi-agency Kauri Dieback national programme, which carried out detailed aerial sweeps over much of the region last summer.
Chairman Shepherd says that aerial surveillance had been carried out using a system of high resolution camera equipment developed privately by a council staff member.
"It allowed the capture of much more detailed data than earlier flyovers, revealing almost 300 new sites across Northland where kauri may be suffering from the disease."
Chairman Shepherd says over the past few months, the council had started working its way through the massive task of visiting the newly-identified sites – many in difficult, hard-to-reach places – and taking soil samples to confirm the disease's presence.
The council had under its latest Long Term Plan set up a dedicated three-strong kauri dieback team to assist in that work, with the two newest members hired and joining its ranks recently.  The two new staff are a further boost to several council staff who already carry out a variety of dieback-related work as part of their wider council biosecurity duties.
Chairman Shepherd says the pathogen responsible for kauri dieback can remain dormant in the soil (even without a host) for at least six years and scientists have discovered it can sense a kauri tree's roots and swim towards them using tail-like flagella.
"Spores are typically introduced into kauri areas through human activity, but also by animals like pigs, and unfortunately it only takes just a pinhead of soil to move enough spores to spread the disease."
Kauri are found throughout the Upper North Island, but Chairman Shepherd says unlike its neighbouring Auckland Council – which owns large tracts of public kauri forest – the only kauri NRC owns are found in small numbers amongst wider commercial forest it owns.
"The vast majority of Northland kauri are scattered over thousands of hectares of land controlled by the Department of Conservation or are on privately-owned land."
He says the NRC has worked closely with the department and other partners to learn more about, and try to control, kauri dieback and is pleased at the recent central government announcement it would inject another almost $14 million into new research for tackling it and myrtle rust.
The government is also currently working towards a National Pest Management Plan for kauri dieback that would contain mandatory control measures to stop its spread.  However, Chairman Shepherd says under the council's Northland Regional Pest Management Plan, any suspected kauri dieback must already legally be reported to an 'appropriate management agency' like the council.
A range of information about the disease is available from  www.kauridieback.co.nz