'ELF' ensures a not-so-happy ending for North pests
9 Nov 2018, 8:13 AM
A fund that shares its name with a mythical storybook creature is ensuring a not-so-happy ending in the real world for a range of Northland pests.
The ELF (Environmental Leaders Fund) is an annual $20,000 Northland Regional Council (NRC) initiative that this year has seen an additional $10,000 worth of pest killing, trapping and tracking equipment allocated to 17 schools across the region.
Regional councillor Joce Yeoman says the contestable fund aims to support Northland schools and students to increase their environmental knowledge, passion and practice.
This year's extra biosecurity-targeted funding has allowed the purchase of: 
Seven live capture traps
55 Timms (possum) traps
90 rat traps
35 DOC 200 (stoat/rat/ hedgehog) traps
130 leg hold traps
Various other rat/mouse traps and baits
Tracking materials for monitoring
"Additionally, there are four motion-activated trail cameras with a night vision capability which schools can borrow."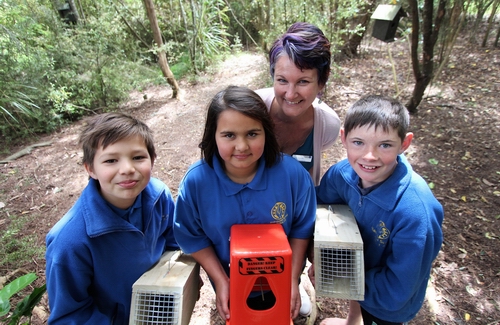 With Cr Joce Yeoman and some of their newly-allocated pest traps are, from left, Hukerenui School students Che Stevens (Year 7), Faith Hanley (Yr 5) and Jack Williams (Yr 6).Councillor Yeoman was present when her local school at Hukerenui took delivery recently of the five Timms traps and five rat traps it was allocated through the ELF process.  The school will also be able to borrow one of the trail cameras for its pest control work.
Of the 35 schools (including Hukerenui) which received some of this year's $30,000 worth of overall ELF funding, all but one are members of the national Enviroschools programme, a school-wide approach to sustainability.
"The regional council introduced the popular programme to Northland in 2004 and there are now more than 90 schools and kindergartens in the programme region-wide."
Councillor Yeoman – whose Coastal North constituency includes Hukerenui School –  says it's great to see young people taking such a keen interest in ways they can pro-actively help protect their local environment from pests.
Principal Bastienne Kruger says the Hukerenui students are grateful for the traps, which about 35 of its 160 pupils will put to good use as part of their pest control work within the wider Enviroschools' initiative.
"These children actually run the programme themselves.  From working with teachers, to teaching the classes and planning; it's all student-led and I think that's very important," she says.
Councillor Yeoman says since its inception three years ago, a wide range of projects have received funding via the annual ELF fund.
"Applications can be made for a maximum of up to $2000 funding and projects relating to council's core business of biodiversity, biosecurity and water quality typically have a greater chance of success."
While this year's ELF funding had been boosted to $30,000 – all of which had now been allocated – all Northland schools would be emailed when applications for the 2019 funding round opened next year.
Councillor Yeoman says in the meantime, the regional council has a range of other community funding available.
Further information is available via: www.nrc.govt.nz/funding