Ambitious new NRC 10-year plan launched
8 Mar 2018, 9:12 AM
Community calls to do more to clean up waters, protect native species and provide better flood protection are reflected in the Northland Regional Council's ambitious new 10-year plan – but will come at a cost Chairman Bill Shepherd says.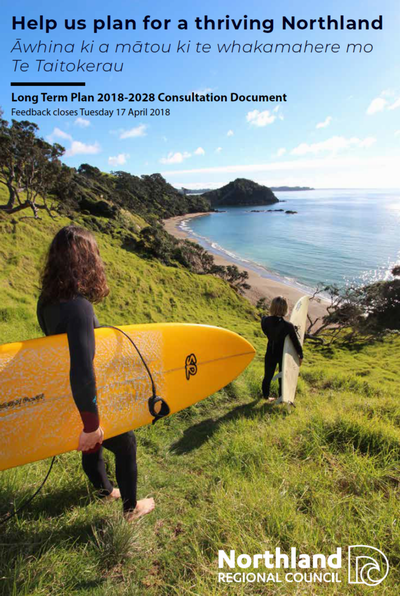 Councillors formally signed off the proposals for the council's Long Term Plan (LTP) 2018-2028 yesterday on Wednesday, 7 March and will be seeking public feedback until 4pm Tuesday 17 April 2018.
Chairman Shepherd says in recent years the council has kept a tight rein on rates increases, stretching existing budgets as far as it possibly could, but is now seeking public support for a spending boost that will cost the average ratepayer another roughly $67 (a 29% increase) over the next year.
He says while on a percentage basis the proposed rates increase seems large, in dollar terms the average rate would only increase by roughly $1.30 a week.
"The actual amount will obviously vary widely across the region (for example the $67 figure doesn't include targeted increases to local transport or flood protection schemes) but we see this as a highly important investment for our environment to really flourish and to keep our communities safe from flood risk."
Chairman Shepherd says the council has produced a 'Consultation Document' clearly highlighting the main changes and new initiatives being considered – and how they might be funded– as the basis for feedback.
The council will also be holding a series of 'Have Your Say' events around the region from Tuesday 20 March to Tuesday 27 March where people can give feedback direct to councillors.
"We encourage as many people as possible to take advantage of this opportunity to give their feedback to us in person, as these events are being held instead of a more formal hearing process."
While council is also encouraging written feedback online via www.nrc.govt.nz/ltp2018 it can also be submitted via post, email, fax or dropped off to any regional council office, again before 4pm Tuesday 17 April.
Chairman Shepherd says while people can have their say on anything the council does, the LTP traverses several big issues councillors are especially keen to hear their views on.
"The first is water; do you want us to increase the work we do to care for Northland's fresh and coastal waters?"
"Another is native life; should we invest more in pest management and strive to become a pest-free region?"
On the flooding front, the council wants to know if all Northlanders should chip in financially to help flood-prone areas and suggests new flood infrastructure work for Whangarei, Awanui, Kaeo, Taumarere and Panguru.
"There are also a number of other decisions we need to collectively make including an overhaul of our rating system to make it more fair and transparent, funding for emergency services, funding for sports facilities and changes to transport rates.
Chairman Shepherd concedes rates increases are never popular – something councillors are acutely conscious of – but that had to be weighed against the fact Northland's communities had made it very clear they wanted more done to clean up water, protect native species and provide better flood protection.
"We're at a real crossroads. The community has told us where we need to 'step up' but to make real progress in these areas we will have to boost our spending accordingly."
He says given members of the public will effectively be footing the bill, it's essential that people take the time to provide feedback to councillors on these critical issues.
The Consultation Document will be available online at www.nrc.govt.nz/ltp2018 and will also be available from regional council offices.
'Have Your Say' events will be held at:
Whangārei: Tue 20 March, 4-6pm, 36 Water St (NRC office)
Whangārei: Wed 21 March, 10am-12pm, 36 Water St (NRC office)
Kerikeri: Thu 22 March, 9:30-11:30am, Cornerstone, corner of Kerikeri Road and the Heritage Bypass
Kaikohe: Thu 22 March, 2-4pm, Memorial Hall, Memorial Drive
Kaitāia: Sat 24 March, 10:30am-12:30pm, Te Ahu Centre, corner of Mathews Avenue and South Road (SH1)
Dargaville: Tue 27 March, 9:30am-11:30am, Town Hall, Hokianga Road
Mangawhai: Tue 27 March, 2-4pm, Mangawhai Domain, Moir St/Mangawhai-Kaiwaka Road