Whangarei's flood detention dam working well; NRC
28 Jun 2018, 12:28 PM
Recent wet weather has given the multimillion dollar detention dam designed to better protect Whangarei's central business district from damaging and costly floods one of its biggest tests to date – albeit still well below its massive maximum capacity.
The $11-million Hopua te Nihotetea dam was officially opened two years ago and is specifically engineered to rapidly capture up to 1.8 billion litres of floodwater during heavy rain, lessening the severity of major flooding from the Raumanaga Stream in the city's CBD and parts of Morningside and Raumanga.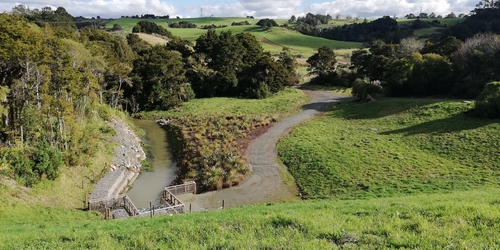 A much more placid scene at the Hopua te Nihotetea dam roughly 24 hours later.
It then slowly releases the water back into the Raumanga Stream over a matter of hours – or as long as several days – depending on the amount trapped.
Whangarei-based regional councillor David Sinclair says the same wet weather system responsible for blocking SH1 with floodwaters at Whakapara late last week had dropped about 120mm rain – roughly a month's worth – on urban Whangarei in just 24 hours to 2am on Thursday 21 June.
Councillor Sinclair, the NRC's Deputy Chair and who also chairs the Whangarei Urban Rivers Flood Working Group, says the 18-metre high dam – which straddles the borders of Raumanga and Maunu – recorded one of its highest levels to date in early hours of 21 June.
Floodwaters reached approximately 5m high, with the dam temporarily storing an estimated more than 40 million litres of floodwaters.
"Obviously that's still well below the dam's design capacity of approximately 1.8 billion litres, however, given it's engineered to withstand a very rare 1:100-year storm event, with associated very high hourly rainfall rates, it could potentially be decades before it is tested to anything like what it's capable of."
Councillor Sinclair says realistically, the rain that fell during last week's bad weather did not fall quickly enough or in anywhere large enough amounts to have posed a real risk to the central business district (CBD).
Nonetheless, he says it was reassuring to see the dam acting as it should and temporarily – and effectively – storing floodwaters that in the past would simply have fed straight into the Raumanga Stream and headed towards the CBD.
"It's important to bear in mind that even in a big storm, Hopua te Nihotetea isn't designed to completely stop the CBD from flooding as the Waiarohia Stream and tidal Hatea River also flow into the downtown area."
"However, a lot of the harm caused by flooding depends not only on how deep those floodwaters are but crucially, how fast they're travelling." "This is where the dam's role is critical, as in a very large storm it will significantly slow damaging floodwaters and cut flood depths in the CBD by up to half a metre."
Councillor Sinclair says ultimately, the dam is expected to save about $1.4 million in damage annually over its extremely long operational life.
"The long-term financial benefits to our community from mitigating the worst of these factors can be quite substantial, especially when you consider this dam could be here for a century or longer."
He says because it's a detention dam (as opposed to a water storage dam like the one at Whangarei's Whau Valley), for the vast majority of the time Hopua te Nihotetea actually holds no water at all, really only coming into its own in big storms.
The dam is being paid for via a targeted rate on more than 17,000 properties in the Whangarei CBD and contributing catchment areas.
It took about 16 months to build and at the time was the largest project of its kind undertaken by the regional council.
Webcams capturing images at the dam can be viewed on the council's website at: www.nrc.govt.nz/Environment/Webcams