First North kindergarten becomes Green-Gold Enviroschool
13 Dec 2018, 1:30 PM
Matarau's Comrie Park Kindergarten has become the first kindergarten in Northland to achieve prestigious 'Green-Gold' status through the national Enviroschools programme; an organisation-wide approach to sustainability.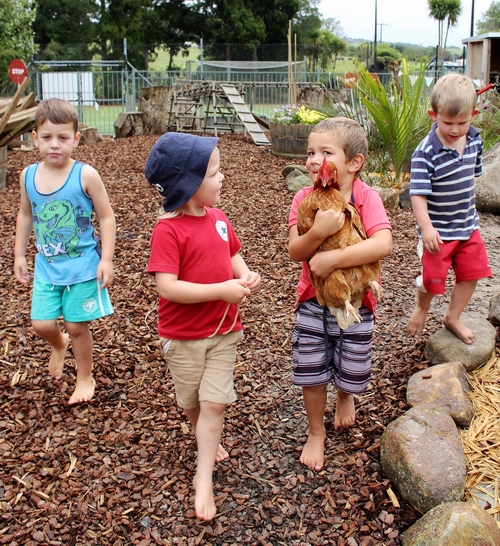 Comrie Park Kindergarten children, from left, Nate Barry, Owain Jones, Denim Hutchinson (with chicken, Hene hei hei) and Flynn Smith in the kindergarten's outdoor area.
The Northland Regional Council introduced the popular programme to Northland in 2004 and there are now more than 100 schools and kindergartens in the programme region-wide.
Bill Shepherd, the council's chairman, will officially present the Green-Gold during a celebration at the 44-pupil kindergarten in Matarau on Friday, 14 December.
Chairman Shepherd says Enviroschools' recognition comes in three bands, from the most-often awarded Bronze (which Comrie Park achieved in 2013), through to Silver (which it reached in 2015) and the rarest Green-Gold.
"Green-Gold is a very significant milestone in any organisation's journey as an Enviroschool, but for Comrie Park – which in 2012 become the first Northland kindergarten to join the programme – this occasion is even more special."
Chairman Shepherd says Comrie Park is very much a hub – and second home for many – in its local community.
"Its contribution to sustainability behaviour change in that community is considerable indeed and includes vege gardening, riparian planting, wise waste management, keeping chickens, healthy eating and orcharding"
Comrie Park was also the first kindergarten involved in the Enviroschools WaiRestoration project, carrying out WaiPlanting days.
"Among the next steps in that regard will be to set up a 'WaiNursery' at kindergarten to grow riparian plants in conjunction with neighbouring Matarau School, thanks to funding from the Mangere Catchment Group and school parent labour."
He says other 'next steps' include pest control, installation of another water tank and a local marae visit.
An estimated 200 current and former students, staff and members of the public are expected to attend the Green-Gold celebration and Chairman Shepherd says the regional council greatly values the work taken on by the kindergarten.
The regional council's Enviroschools Regional Co-ordinator Susan Karels says while the new Green-Gold status belongs to the entire kindergarten community, head teacher Anna Alexander, her teams and the Northland Kindergarten Association all deserved special mention for their expertise and efforts over many years.
To mark the occasion, attendees at the Green-Gold celebration will receive a framed certificate and Green-Gold status sticker to add to their official Enviroschools sign as well as two possum traps gifted by the council's biosecurity team.
Mrs Karels says more information on the wider Enviroschools programme in Northland is available from: www.nrc.govt.nz/enviroschools