CityLink Snapper smartcard users urged to use credit before end September
30 Aug 2018
CityLink Whangarei passengers who use the service's electronic Snapper cards are being urged to use up any outstanding credit on them by Saturday 29 September at the latest.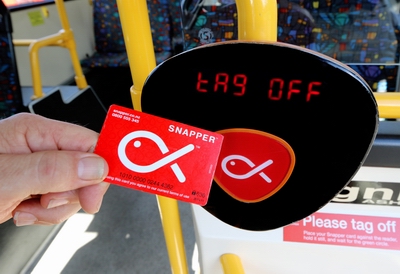 CityLink Whangarei passengers urged to use Snapper card credit before end of September.
Regional Councillor John Bain, who chairs the Northland Regional Transport Committee, says upcoming changes to CityLink's ticketing system means Snapper cards will no longer work from October, and unused credit can't be refunded.
A consortium of nine local authorities is implementing a staged roll out of a new ticketing system using a new provider, which will be in place early next year.
"To bridge the gap between the Snapper system and the new smartcard, CityLink fares will be cash-only for several months – and they will also be cheaper for this time period."
Councillor Bain says interim fares will be $2 an adult and $1 per child/high school student in uniform or with secondary school ID.
"We are pleased to be delivering a whole raft of positive changes to CityLink in October, including a repainted and refreshed fleet, updated timetables, new and improved routes and cycle racks," Councillor Bain says.
"While we had hoped that the new ticketing system would be ready to go in the same timeframe as our other changes, we're pleased to be able to bridge the gap with a cheaper fare while we're between systems."
Councillor Bain says more information about the wider changes to be implemented in October will be available shortly on buses, at the Rose St bus terminus and via the CityLink website www.citylinkwhangarei.co.nz
The Northland Regional Council's new nine-year operating contract for CityLink Whangarei with Ritchies will see a long-awaited service to Gumdigger Pl and the Lower Port Rd area.
An extension to existing route 7 will include Winger Cres, and all services will run until 4pm on Saturdays.