From humble pet pooches to potential canine biosecurity stars
24 Apr 2018
A dozen Northland local authority staff and keen members of the public have been working with a Southland-based expert to learn the skills they need to train their pet dogs to search for unwanted pest plants and animals.
The Northland Regional Council (NRC) says the shift from humble pet pooch to part-time biosecurity hero is not as difficult as it might seem, but to be done effectively, still takes two to three months and requires certain kinds of dog with the right temperament; including a 'busy' work ethic.
However, council biosecurity officer Sara Brill says the first – and arguably most crucial – part of the process is not about the dog at all; it's to make sure the person training their pet is themselves suitably upskilled.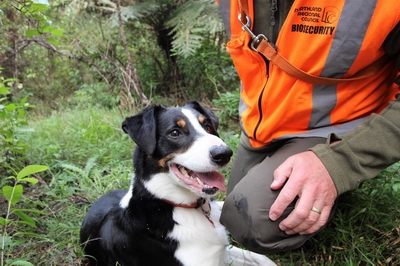 Southland-based biosecurity dog Rusty during a break from the hunt for batwing passionflower in the bush at Whangaroa yesterday.
To that end, Invercargill-based trainer John Taylor and his eight-year-old border collie Rusty spent several days in Whangarei recently teaching council staff and interested members of the public how to train their pets to find unwanted pest plants.  The pair also successfully searched for unwanted batwing passionflower in the Whangaroa area, Monday 23 April.
Ms Brill says most people are familiar with the ways dogs can use their remarkable sense of smell to assist in law enforcement and search and rescue operations, however, their role as searchers for unwanted plants is less well-known.
"Northland has nine species of plant and several species of animal and/or freshwater pests which trained dogs could be a great help to accurately locate, saving time and valuable ratepayer money in the process."
"The hope is that these dogs will increase our effectiveness in locating pest plants which pose a very real threat to Northland's environment."
Ms Brill says one of the key advantages biosecurity dogs offer over human searchers is that they can efficiently and quickly track every single unwanted plant – no matter how small – in a large target area.
"With human searchers – who typically rely on eye alone –there's a much greater risk that we can inadvertently miss plants."
Ms Brill says 12 people (regional council staff and some members of the Whangarei Dog Obedience Club) had had some initial training from Mr Taylor, who has trained two of his own dogs; one to search for velvet leaf and another for spartina.
He says based on what he has seen to date, he expects Northland could have several resident, newly-trained biosecurity dogs by the end of the year.
For more information about these pest plants and other pests and weeds in Northland visit:
www.nrc.govt.nz/pestcontrolhub