Far North, Kaipara, Whangarei, host Enviroschools expos
7 Nov 2017, 9:32 AM
More than 250 students, teachers, family and community members hit the road in the Far North, Kaipara and Whangarei recently to learn about environmentally sustainable local businesses at this year's Enviroschools regional expos.
The first of the three Enviroschools Enterprise Expos for Years Five to 10 students began at Kaitaia's Te Ahu Centre on Tuesday, 31 October. It was followed two days later on 02 November with Kaipara's event, which started from the Matakohe War Memorial Hall, while the final expo began at Whangarei's Kiwi North Monday, 06 November.
Kaipara-based regional councillor Penny Smart, who officially opened the Kaipara tour, says expos have been held yearly for about a decade and always provide exciting, hands-on learning experiences for participants.
She says each tour featured visits to four local employers in each district. While they ran very diverse businesses, all typically shared a common passion for operating in a sustainable manner which benefited their local communities, both environmentally and socially.
Last week's Far North tour included trips to Whanau Meats (a family-owned butcher shop and home kill processor), Mana Kai Honey (honey, beekeeping and pollination), Due North (handcrafted preserves) and Apatu Aqua (which catches and sells fresh and smoked fish).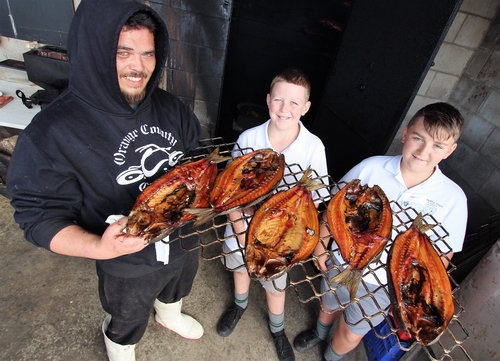 Joel Rikona, of Coopers Beach-based Apatu Aqua, shows freshly smoked mullet to Caolan Price and Jayden Schrafft from Kaitaia's Pompallier Catholic School during the Far North leg of the 2017 Enviroschools Expos.
Kaipara's tour included Chapel Olive Oil (infused olive oils), Organic Dairy Hub (a milk supplier), Zephyr Oysters (growing, harvesting and processing) and Te Rata Family Farm (whose operations include a large scale free-range chicken enterprise).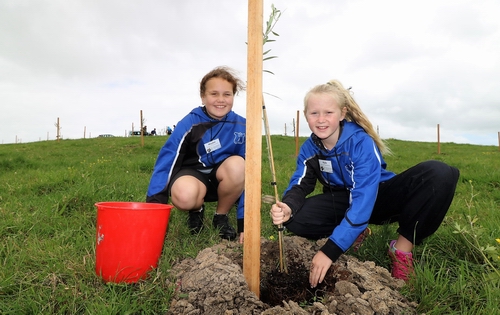 Dargaville Intermediate students Haylee Mitchell, left, and Ayla Steed, plant a young olive tree at Paparoa's Chapel Olive Oil during the Kaipara leg of the 2017 Enviroschools Expos.
The final tour, in the Whangarei district yesterday, took in Maungatapere Berries (a berry and kiwifruit producer), Tamco (which sells tamarillo-based vinaigrette and relish both locally and abroad), The Good Eggs (a free-range chicken farm/egg producer) and The Goat Farm (which produces goat milk for infant formula).
The regional council introduced the popular Enviroschools programme to Northland more than a decade ago and there are now more than 90 schools and kindergartens in the programme region-wide.
Cr Smart says while expos' themes vary from year to year, they always have a lot to offer participants. "For instance, this year's events taught young people it's possible to use our shared environment for economic gain in a sustainable manner."
Similarly, this year's expos also showcased potential job opportunities for young people and provided an exciting platform for participating Enviroschools schools as they planned for the coming year.
More information about the Enviroschools programme generally is available from the regional council's website via: www.nrc.govt.nz/enviroschools