Hakaru River wins Northland's most improved river award
12 Dec 2017, 12:05 PM
Sustained improvements in faecal indicator bacterial levels in the Hakaru River near Topuni have earned a NZ River award for Northland's most improved river.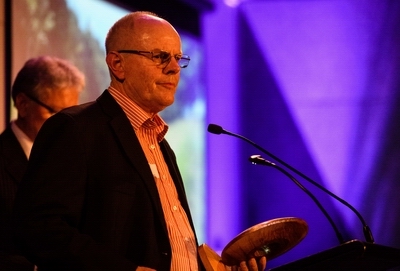 Chairman Bill Shepherd accepts the NZ River Award for Northland's most improved river, the Hakaru.
Northland Regional Council Chairman Bill Shepherd recently accepted the award on behalf of the Hakaru community and Northland ratepayers.
The Hakaru River originates in native and pine forest in the Brynderwyn hills and flows south through farmland until it reaches the Topuni River and feeds into an arm of the Kaipara harbour.
"The river's steady recovery is testament to the cumulative effect of landowners and environmental groups working with advice and support from the council, NZ Landcare Trust and Department of Conservation," Cr Shepherd says.
"No single factor is responsible for the trend improvement of 10% every year in E.coli (Escherichia coli) in the Hakaru River for the last 10 years. Many activities have led to this great result and similar results are being achieved in catchments around the region."
Farmers and people buying lifestyle blocks have planted the banks of the river with some of the land placed under QEII covenant by people wanting to do a 'good thing', as well as being required under council subdivision regulations.
One very large sheep and beef farm has implemented management practices that include a significant amount of stream fencing and pest control work. There have also been improvements in land management on local dairy farms. Many farms have installed more effluent ponds, with most having two to four ponds, which provide greater storage and more effective effluent management.
"Environmental groups are also working hard on water quality and controlling pests such as goats, pigs and possums," Cr Shepherd says. "Some of this has been done with funding from the regional council's Environment Fund."