Time running out for early comment on new Regional Plan
13 Sep 2016, 3:11 PM
Time is running out for Northlanders to comment on an initial draft of an important new plan that will eventually set out how the region's water, air, land and the coast are managed.
A more than six-week period for public feedback on the Northland Regional Council's Draft Regional Plan – and a series of five tailor-made catchment plans – will end at 5pm on Friday 23 September.
Council Policy Development Manager Ben Lee says the Draft Regional Plan is effectively a rule book designed to replace three existing regional plans which are now more than 10 years old.
"The new draft reflects better knowledge of our region's environment and also factors in important changes over the past 10 years or so, including new national direction and policies from central government."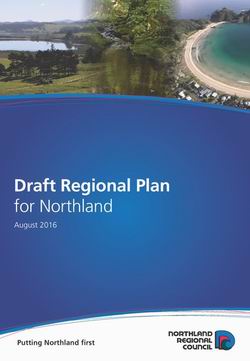 Mr Lee says the council has attempted to strike a balance between protecting the things that Northlanders value, like clean water and air, and providing for our important economic activities including farming, horticulture, forestry, tourism and marine enterprise.
The decision to release the draft plan on 08 August for public comment was a bid by the council's Regional Policy Committee to 'road-test' the plan with the community well before council moves into the formal process.
Mr Lee says public feedback on the draft as it now stands (which again, can be made until 5pm Friday 23 September and includes online submissions) will help the council shape a final 'proposed plan', which it hopes to notify next year.
Key proposed changes in the draft include new limits on taking water from rivers, lakes and aquifers, making it easier to get permission for mangrove removal and new stock exclusion rules for rivers, drains, wetlands and lakes.
Aquaculture will be prohibited in sensitive areas and the new plan should make it easier to get a mooring. It also identifies new protected anchorage zones, more no-discharge areas and stricter rules on hull-fouling to better manage risks from marine pests, and more targeted protection for areas of natural or cultural significance.
The council is also tailoring the way fresh water is managed in the Doubtless Bay, Pouto, Waitangi, Whangarei and Mangere catchments to address issues of particular concern to those communities.
Mr Lee says nine drop-in sessions on the Draft Regional Plan and Draft Catchment Plans have already been held around Northland over the past few weeks as part of the feedback period.
"There are still two sessions to be held, the first covering catchment plans for the Whangarei Harbour Catchment and the final one for the Pouto Lakes Catchment."
The Whangarei session will be held at the regional council offices in Water St from 8am-11am on Saturday 17 September and the Pouto session at the Rangitane Hall from 10am-2pm on Tuesday 20 September.
More information about the Draft Regional Plan is available online via: www.nrc.govt.nz/newregionalplan and the catchment management plans via www.nrc.govt.nz/waiorafeedback