Kerikeri river judged Northland's most improved
7 Nov 2016, 1:03 PM
Kerikeri's Waipapa River has been named the most improved river in Northland at the New Zealand River Awards 2016.

The awards, organised by the NZ Rivers Trust and Morgan Foundation, were determined this year by the monitored trend improvement in the macroinvertebrate community index (MCI), a valuable indicator of general river health.
The MCI for the Waipapa River showed an annual trend improvement of 4.7 percent over the past eight years at the monitoring site at Waipapa Landing.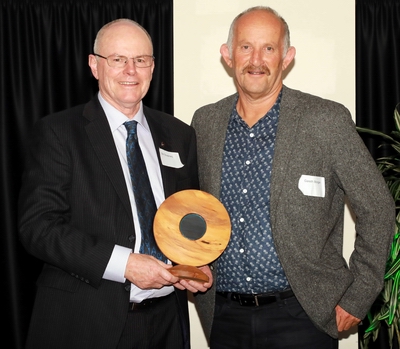 Council chairman Bill Shepherd with philanthropist Gareth Morgan at the New Zealand River Awards 2016.
Council chairman Bill Shepherd, who attended the November 03 Wellington awards, says there has been a steady change in land use along the lower reaches of the river, from orchards to lifestyle blocks. "A wide variety of riparian planting has resulted in more shading of the river and a contributed to a healthier water environment."
Councillor Shepherd says a great deal of effort has been expended in recent years to protect and enhance the region's fresh water resources by a wide range of people and organisations including landowners and farmers, local communities and industry groups, tangata whenua and local government.
He says with roughly half the work the regional council does being linked to fresh water in some way, it's pleasing to see improvements in water quality and for these to be acknowledged in a positive way.