Regional council Dargaville office on the move
5 Jul 2016, 10:47 AM
The Northland Regional Council's Dargaville office is on the move from its long-held Victoria St base to shared space in the existing Kaipara District Council (KDC) building.
The regional council's office is currently home to four fulltime Kaipara staff; Area Manager Gary Treadgold, a customer relations officer, a biosecurity advisor and a land management officer.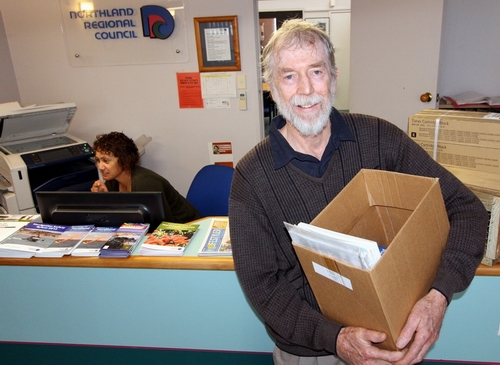 Gary Treadgold, regional council Area Manager Dargaville, makes preparations for a looming relocation to shared space in the town's Kaipara District Council offices.
All four staff will keep their jobs, Mr Treadgold saying the pending shift to the KDC's nearby offices at 42 Hokianga Rd – currently scheduled for Monday 11 July – is a commonsense one.
"This is just another case where Northland's local authorities are working more closely together and sharing services where possible to gain efficiencies on behalf of our shared ratepayer base and make it easier for our customers."
Mr Treadgold says given many inquiries into the Dargaville office are done via phone, those customers would notice little change in their dealings with the council.
"But for others visiting us in person, it could be useful having access to both councils in the one location."
The regional council's Dargaville phone number will remain unchanged despite the shift – (09) 439 3300.