Rabbit rissoles latest tasty food treat
21 Jan 2016, 9:06 AM
Rabbit rissoles with garlic and fennel will be the wild food treat used to lure visitors to the Northland Regional Council's marquee at Kaipara's upcoming Northland Field Days.
In recent years the regional council has successfully used a variety of wild food treats – most made from pests – as a fun way of attracting visitors to the Dargaville event.
Council Chairman Bill Shepherd says previous wild food treats have included possum burgers, pies and pate, wild pork and goat meat pies, wild rabbit sausages and even wasp larvae ice cream.
This year will again see another pest – the rabbit – turned into an appetising treat, rissoles with garlic and fennel.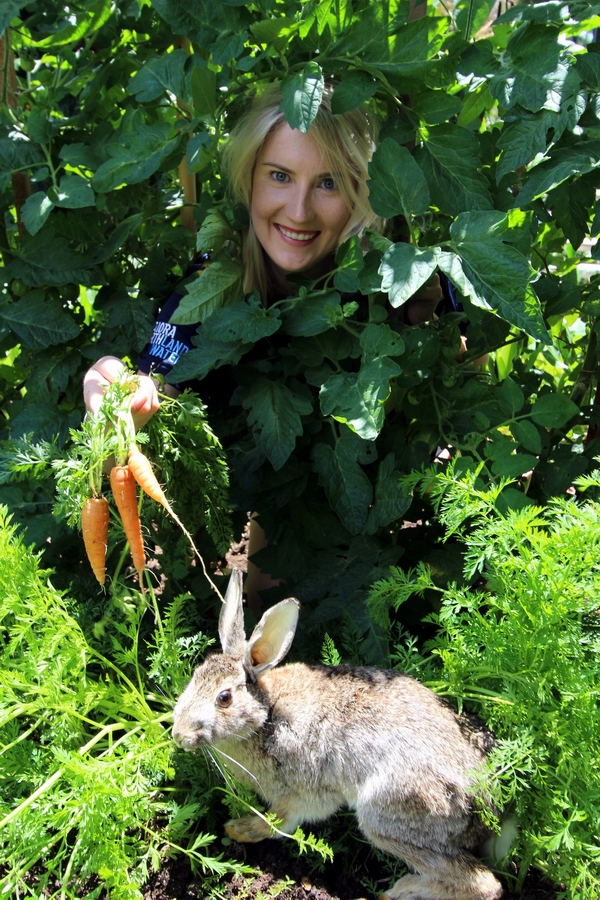 Look out Bugs…Natasha Stubbing and her regional council colleagues expect to give away about 1500 free rabbit rissoles at this year's Northland Field Days. The council has turned all sorts of pests into tasty treats for the annual event in the past, including possums, wild goats and pigs and even wasp larvae.
About 75 kilogrammes of rabbit meat has been sourced from an approved wild game supplier, which will turn it into roughly 1500 rissoles.
Councillor Shepherd says they'll be served on skewers with dipping sauce over the three days of the Thursday 03 to Saturday 05 March field days at the council's usual location, site 251 on 'Fonterra Farm Source Road'.
The rissoles are a quirky way to boost visitor numbers to view the council's displays and speak with staff about the more serious side of its work.
"This year our marquee will be themed around working together for the benefit of our shared Northland environment," Cr Shepherd says.
"There'll be a large number of interactive activities showing how to take action on a wide range of topics, including pest plants and animals, land and lake management, kauri dieback disease and farm dairy effluent."
The council will also be selling a range of pest traps for possums, rats and mustelids.
"As usual, we'll also have council specialists across a range of fields on hand to offer advice or chat about land and other issues people may have and a number of councillors also plan to attend."