Property buy to aid Kawakawa Hundertwasser project; NRC
17 Aug 2016, 9:30 AM
The Northland Regional Council has bought a Gillies St property intended to become an essential link between Kawakawa's main street and a proposed Hundertwasser Park development there.
The 982 square metre property at 56 Gillies St is immediately beside the iconic toilet complex – now a world-famous tourist attraction – developed by the late artist Friedensreich Hundertwasser.
The regional council paid $485,000 for the Gillies St property and the purchase effectively honours a previous 'in principle' commitment by its councillors two years ago of up to $500,000 to help fund a visitor centre in the town honouring the artist, who died in 2000.
Council CEO Malcolm Nicolson says the wider Hundertwasser Park proposal is being spearheaded by a charitable trust, the Far North District Council (FNDC) and Far North Holdings Limited. Under the trust's latest plans, the development would include a visitor centre, café and the FNDC's Kawakawa-based service centre and library.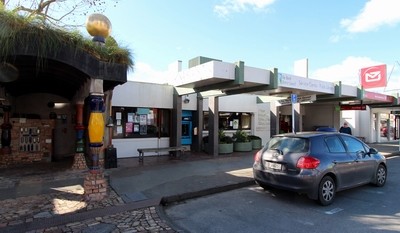 The Northland Regional Council's newly-purchased Kawakawa property, which sits immediately beside the town's world-famous Hundertwasser toilets.
The service centre and library are currently housed in the Gillies St property the regional council has just purchased. It is leased to the FNDC until March 2020.
However, Mr Nicolson says if the Hundertwasser Park development went ahead as planned, the building – constructed about 30 years ago – would eventually be partially or fully demolished and a new building erected further north of the property.
The land freed up by the demolition could then be used to create a public space/town square that would be an "essential link" between the main street and the development.
"The Northland Regional Council is pleased to be able to support the Kawakawa community and make a significant contribution to a proposed project that will potentially deliver such a big economic boost to the town and the wider mid-North area."
He says as well as the FNDC services, the Gillies St property is currently also leased to ANZ (for an ATM machine) and NZ Post.
Mr Nicolson says irrespective of the future use of the land and/or building, the regional council intended to retain ownership of the Gillies St property and had already specifically ruled out it being transferred to a third party.
"This would be the case whether the property remains as part of council's investment portfolio or is used in support of Kawakawa Hundertwasser Park project even if, in the latter case, the current building is demolished."
Mr Nicolson says the property – which had been privately owned – officially changed hands on Monday 08 August.