Lighter, 'smarter' lakes boat joins NRC fleet
24 Aug 2016, 11:01 AM
A custom lightweight boat with an unusual bow-mounted electric motor that holds it in place using GPS technology is the latest tool helping to protect some of Northland's most special lakes.
Dubbed 'Mudfish' the three-metre, carbon reinforced fibreglass, Kevlar and foam sandwich vessel weighs less than 50kg and was built for the Northland Regional Council by Paihia-based Offshore Cruising Tenders.
It contains a number of specialised features, including a bow-mounted electric motor, and is used by council staff to monitor the health of Northland's many lakes, including its rare dune lakes.
Council Environmental Monitoring Officer Andrew Macdonald says the remote-controlled motor can accurately hold the Mudfish at pre-determined locations using GPS which allows staff to concentrate on their sampling.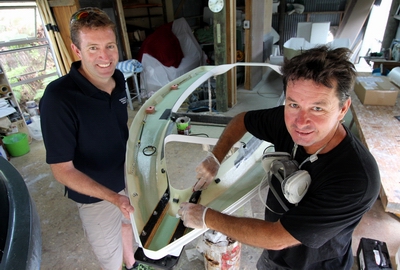 Andrew Macdonald (left) watches as Russell Carlyon of Offshore Cruising Tenders builds a bow mount for the electric motor during the Mudfish's construction in Paihia earlier this year.
The tiny $8000-plus vessel was commissioned in large-part after Mr Macdonald injured his back manoeuvring its much heavier, trailer-mounted predecessor into the water about 18 months ago.
"The new boat is carried on a special roof rack atop a council 4WD and is much easier to retrieve and recover, especially in rough and steep terrain or in remote areas without easy access to the water."
Mr Macdonald says a specialised loading system lowers and raises the boat using a standard electric drill to power it and the vessel has permanently-attached wheels at its rear (able to be folded away when not in use) to also make it easier to launch and retrieve.
The lack of a boat trailer (which can snag aquatic weeds and the seeds and eggs of pest species) makes for fewer biosecurity risks and makes the boat and its equipment much easier to clean between lake visits.
"Another bonus of not having a trailer is that we are far less likely to get stuck, an occasional downside for staff in our line of work, and it also reduces the risk of incidents on privately-owned land we're given access to."
The extremely stable boat also has strategically-placed pieces of aluminium sheeting incorporated into its hull for added protection in the areas most likely to suffer wear and tear.
Mr Macdonald says Mudfish carries a range of equipment including chart plotting, side scan sonar and water quality monitoring gear. In another clever use of an existing technology, an electric fishing reel is used to quickly and accurately deliver sampling/monitoring equipment up and down the water column.
"Although it's only 3m long, the vessel offers a lot of internal space for its size and the materials used in its construction mean it's virtually unsinkable."
The vessel underwent a full maritime survey as part of its construction, which it passed with flying colours.
Meanwhile, although some equipment, including the electric motor set-up, is still being fine-tuned to optimise its performance, Mudfish has already proved to be a huge improvement on the previous lakes boat since it began its new role in earnest recently.