Discovery of very rare aquatic plant thrills
26 Aug 2016, 3:06 PM
The discovery of a previously unknown site of a critically endangered native aquatic plant in pools at the outlet to a remote Northland dune lake has thrilled biodiversity experts.
Lisa Forester, Environmental Assets Manager for the Northland Regional Council, says native bladderwort, Utricularia australis, has declined at an alarming rate in the region's dune lakes and wetlands over the past three decades.
"Until this latest discovery on privately-owned Maori forestry land at Lake Te Kahika in Great Exhibition Bay, it was thought to have been limited to less than a handful of the 23 water bodies it had previously been known at in the past 30 years."
Ms Forester says the plant's decline is probably due to competition from another bladderwort, which is exotic and seems more able to cope with a reduction in water quality caused by nutrient enrichment in many of the region's dune lakes and wetlands.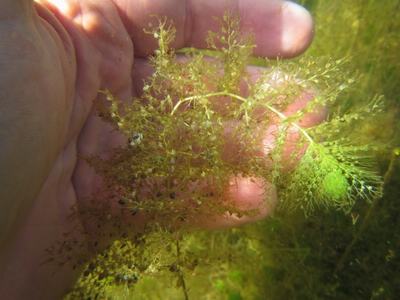 Native bladderwort, Utricularia australis. (Image: NIWA).
Northland is one of the few places in the world where dune lakes are found and with more than 200 over half a hectare in size here, is particularly unusual for the number and diversity of them. (In addition, Northland has a large proportion of New Zealand's lowland lakes still with relatively good water quality and limited impacts of pests and weeds.)


Generally small, shallow and close to the coast, dune lakes are most commonly formed by sand blowing across dunes and scouring out hollows which fill with fresh water, though Lake Taharoa at Kai iwi Lakes at 197ha is one of the largest lakes of its kind in the world.


Ms Forester says over time a vast range of animals and plants like native bladderwort had become established in the lakes.
While the latest find has thrilled experts, that happiness is tempered by the fact that the plant's hold there is probably very tenuous too.
"It has really only been found in small pools at Lake Te Kahika's outlet and is no longer found in the lake proper as far as we can tell."
As if the odds were not already stacked enough against the plant's survival, it is an irregular flower producer and there are no records of it generating seed in New Zealand.
"Our bladderworts may well have begun as hybrids, originally introduced many years ago from northeast Asia by migratory birds."
The plant also requires a quite specialised aquatic habitat, with high concentrations of carbon dioxide and low pH and nutrient concentrations. It feeds by means of tiny vacuum assisted suction pumps, which suck in tiny planktonic animals, hence its bladders.
Ms Forester says the regional council, DOC and NIWA had been working over the past couple of years to find ways to address the plant's decline.
That work included investigations into its genetic variability, attempts to cultivate it and trying to find areas it could be relocated to.
"As part of this, we have been resurveying areas where it was known to have been found in the past, which is how the latest discovery was made."
Ms Forester says while it may seem strange to pour time and effort into a single species like native bladderwort, there were good reasons for doing so.
"In some ways,plants like bladderwort are a 'keystone species' which are an indicator of good ecological health. If you look after this plant, you're effectively looking after the water quality for a whole system supporting a range of other plants and animals."
She says fortunately the land around Lake Te Kahika is managed on behalf of its Maori owners by Hancock Forest Management and both owners and the forestry company are supportive of programmes to look after the lakes there.
Weed control on the dunes and around the dune lakes is part of Hancock Forest Management's annual weed programme.