Controlled Substance Licence training next month
22 Aug 2016, 9:28 AM
Several dozen community members and senior secondary students are expected to receive specialist possum poison training next month as part of 'Project Possum'.
Hundreds of Northlanders have gained hands-on knowledge of possum trapping, fur and pelt recovery since 2011 via the ongoing project.  (The programme is run locally under the Enviroschools banner, supported by Northland Regional Council biosecurity staff and consultant Can Train NZ.)
Several years ago Project Possum was extended to include separate Controlled Substance Licence (CSL) training enabling those who are 17 or older (subject to a police background check) to lay possum-killing toxins like cyanide.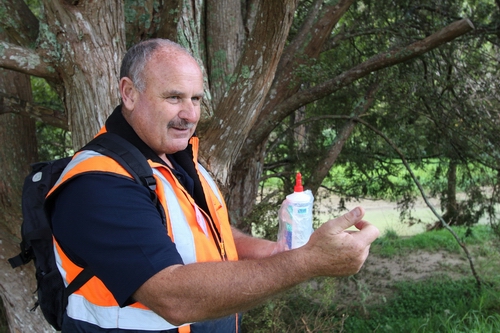 Kaitaia-based Northland Regional Council biosecurity officer Mike Knight demonstrates toxin laying during a previous Controlled Substance Licence course.
Susan Karels, Regional Enviroschools Co-ordinator for the Northland Regional Council, says without a CSL qualification, it's illegal to possess, use, store or manufacture the poisons.
Mrs Karels says the council is now seeking registrations for the three CSL courses on offer at Trefoil Park near Kaikohe early next month, each of which runs for one day.  The courses will be held on Tuesday 06, Thursday 08 and Friday 09 September.
Mrs Karels says while a CSL can be a relatively difficult qualification to obtain, it's worth the effort; making it much easier to kill pests in large numbers and is a very useful qualification for people wanting to work in the pest control industry.
The training costs $370 plus GST per person and is mainly theoretical, but with an important practical component.
Among the raft of issues covered are toxin use, tracking, storage and disposal techniques, as well as associated legal, health and safety requirements, signage and notifications.
Meanwhile, a separate half-day event, the 'Preparation for firearms licence course' will be held between the CSL training at Trefoil Park on Wednesday 07 September.  The free course is open to people 16 years and over.
Mrs Karels says information about Project Possum – and the Enviroschools programme generally – is available from the regional council's website via: www.nrc.govt.nz/enviroschools
Those interested in the CSL training should contact the Northland Regional Council on (0800) 002 004.