Enviroschools reflect on change
Enviroschools is a growing network of schools, early childhood centres and communities in New Zealand and internationally who want to make a positive difference to our environment. In Northland, Enviroschools create an environmental pathway and then move along that chosen pathway. Each school or kindergarten starts from a unique place and each Enviroschools journey is different.
What Enviroschools reflecting on change is all about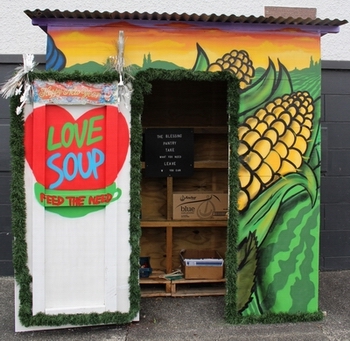 Reflecting on change helps us all to make sense of experiences, deepen our learning and gain direction for the journey ahead. It launches us into the next round of observing, learning, exploring and taking action.
The Enviroschools Holistic Reflection Process involves students and children, staff, parents and others in the community - real value is placed on inter-generational connections. It reflects the Enviroschools kaupapa of life-long learning, genuine student involvement and long-term, personal and community-based behaviour change.
Key elements of the Enviroschools kaupapa include:
The Enviroschools Guiding Principles:
Sustainable Communities
Empowered Students
Māori Perspectives
Learning for Sustainability and
Respect for Diversity of People and Cultures. 
The four key areas of a whole school/kindergarten approach that have an effect on sustainability and student learning: 
Place/Wahi (physical surroundings)
Practices/Tikanga (operational practices)
Programmes/Kaupapa Ako (living curriculum) and
People and Participation/Tangata (organisational management).
How the Enviroschools Holistic Reflection Process works
The process of Holistic Reflection tells the story of the Enviroschools journey – of the people, actions and processes involved. It is a robust process of discussion, reflection and future planning based on the Enviroschools' journey, the current situation and its deepening understanding of, and commitment to, sustainability within its community and the world.
The Enviroschool considers what changes and shifts have occurred since their journey began or since their last holistic reflection. From the evidence gathered, their shifts in practice and strengths are discussed. There is honesty about areas that present opportunities for growth - next steps on the Enviroschool's journey are an integral part of the process.
The celebration of a successful Holistic Reflection is a wonderful way to acknowledge the growth of the school/kindergarten community, and to promote sustainable practices and community resilience for others to model themselves on.
Each Enviroschool is supported throughout the process by their facilitator.
Key components to the Holistic Reflection Process
Sharing the Holistic Reflection process with the Enviroschool
Gathering and reflecting on evidence
Holding a sharing and decision-making session, which includes gathering and documenting ideas for next steps
Celebrating a successful Holistic Reflection
The three stages of the journey
For the Enviroschools Holistic Reflection Process there are three stages that reflect the deepening and broadening of the Enviroschools journey: Bronze, Silver and Green-Gold.
There is a descriptive paragraph for each of these stages for both schools and early childhood. Underpinning these paragraphs are the Enviroschools five Guiding Principles and the Whole School Approach.
During the Enviroschools Holistic Reflection Process, schools and kindergartens reflect on their journey in relation to one of these stages.
Throughout the process, the Enviroschool and its community gather evidence and reflect on the strengths, weaknesses and gaps in their Enviroschools journey. They might choose to act on some of that information to enable them to have a more comfortable fit with the relevant paragraph.
The sharing and decision-making session brings together thinking from a variety of people, who together form the decision-making team. This team affirms the journey, decides on what next steps to write and formally agrees on whether or not there is a comfortable fit with the relevant paragraph.
Plans for the celebration can then be made if the fit is confirmed.
Ideally, Enviroschools undertake a Holistic Reflection every three years. A school's/kindergarten's first Reflection stage is Bronze.   
Bronze​
Opportunities identified

Laying foundations

Committed to the journey

Initial steps being taken
We have started work on getting to know our environment better and creating a whole school vision.  We are thinking about all the Guiding Principles in our planning and action, and we can see how they would look across the four Key Areas of school life.  Students at our school are exploring options and finding some ways to take action for a sustainable future.  We can already show some changes from what we have done.  There are some students and staff actively involved, and we've taken steps to let everyone else in the school know about what is going on.  The people in our school and community know that we are an Enviroschool. 
Silver
Maintaining

Extending

Increasing range and depth of learning and action

Developing connections and integration

Projects and participants growing in number
We have a clear, shared whole school vision and we are working together creatively to make it happen.  There are obvious signs of all the Guiding Principles in our school, across all the areas of school life.  We have a sense of inter-relatedness/whanaungatanga in terms of our school, our community and our environment.  Our sustainable practices are being kept up and are growing; we are branching into new aspects as well as going deeper with existing ones through student-led enquiry.  Students are fully involved in planning and making decisions about actions.  We are tracking our progress and can show that more change has happened.  Our work has involved lots of people in our school, as well as parents, whanau and other community members.
Green/Gold
Embedded

Integrated

Sustained

Instinctive

Effective

Empowered

Deep

Critical

Visionary

Courageous
We have a living, evolving school vision – progress is celebrated and new ideas added. The Guiding Principles are woven into all aspects of our school life. Sustainability is part of all our decisions and everything we do. Students at our school have a strong sense of connection to the environment – we know we can effect change for a sustainable world. The enquiry and action is mainly led by students, with strong support from adults. We have been able to measure many changes from our actions, and show that we are making a difference. The environment is more vibrant and healthy; it feels like a living ecosystem that can support our community towards sustainability. Maori perspectives are enriching our journey. The school is involved with our community, honouring the diversity of people within it. 
How can I find out more information?
Get in touch with our Enviroschools Manager or one of our Facilitators: