Kauri protection
What is damaging kauri?
Kauri are affected by a plant disease caused by the microscopic soil borne pathogen Phytophthora agathidicida (PA). Spores from the pathogen infect kauri roots and damage the tissues preventing the uptake of water and nutrients causing tree death. It can kill kauri of any age and location.
Infected trees show a range of symptoms including yellowing or browning of foliage, canopy thinning, branch dieback and base bleeding caused by lesions around the trunk of the tree. These symptoms increase as the tree progresses towards death.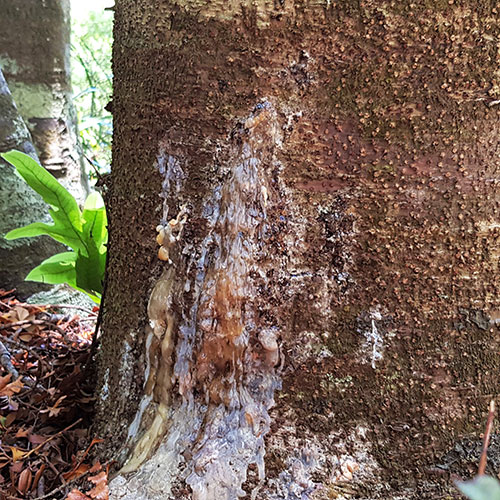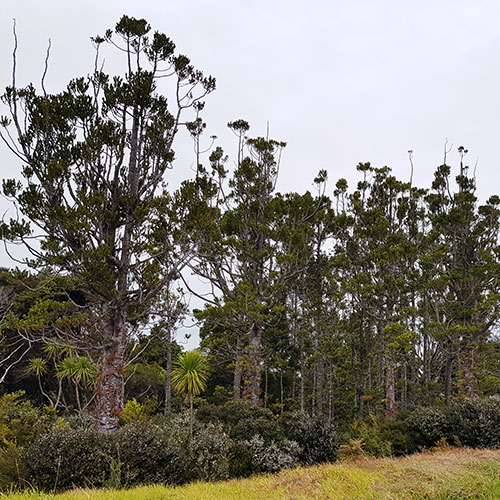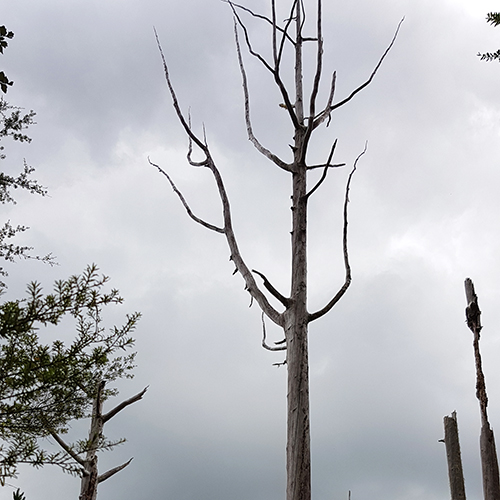 The pathogen which causes disease lives in the soil. There is no airborne phase. The pathogen is spread by movement of soil and/or plant material in the form of dirt adhering to surfaces. Vectors for soil movement include humans and their activities, vehicles and animals.
Preventing the movement of soil and plant material by any means is fundamental to the protection of kauri. Hygiene around footwear, equipment and vehicles is vital. Removal of all soil is the key to success.
A National Pest Management Plan (NPMP) is a biosecurity regulation that can be made under the Biosecurity Act 1993. NPMPs are used for tackling major biosecurity threats and are the strongest form of regulation that the Ministry of Primary Industries (MPI) can put in place for an established pest.
The NPMP is a legal framework that establishes clear national objectives and a nationally co-ordinated and consistent approach to managing the risk and impacts of PA to New Zealand's kauri forests, our culture, our communities and our economy. It will give access to powers under the Biosecurity Act 1993 to require specific actions of people that use, or come into contact with, kauri trees and forests.
Tiakina Kauri, the management agency for the NPMP, is part of Biosecurity New Zealand. Tiakina Kauri will lead and co-ordinate a collaborative effort between Government, councils, iwi, hapū, whānau and non-government organisations in the shared goal of protecting kauri. It will ensure everyone is at the decision-making table and involved in the strategic direction and day-to-day response.
NPMP rules that apply across New Zealand
Rule

Rule name

Intent of the rule

1

Obligation to report

If you recognise that a kauri tree or plant on land you own, lease or are living on looks unhealthy you need to advise Tiakina Kauri, a biosecurity inspector or an authorised person.

Information is available on the Tiakina Kauri website to help identify what the disease looks like. If in doubt, get in touch with your local regional council.

2

Provision of information

Tiakina Kauri, a biosecurity inspector or an authorised person may ask you for information. This request will be restricted to information that helps manage kauri disease caused by the PA pathogen and include questions on the movement of risk items. You will need to provide this information if asked, or explain why you cannot, if this is not possible.

3

Restriction on the movement of kauri

If you are growing kauri plants/trees for moving to and/or re-planting at a different location, there is a set of hygiene practices you need to follow to ensure you don't inadvertently spread the PA pathogen. A production plan detailing these practices needs to be filled out and followed in order for kauri to be moved safely. The production plan is based on existing New Zealand Plant Producers Inc (NZPPI) standards.

This rule applies to any kauri grown after 2 August 2022.

4

PA risk management plans

This rule means that areas that are infected, at risk of becoming infected, or creating a risk of spreading the PA pathogen to other properties may need to have a kauri risk management plan.

In these cases, Tiakina Kauri will contact the landowner/occupier directly.

5

Earthworks PA risk management plan

From 2 August 2023, if you want to undertake any earthworks within a 'kauri hygiene zone' (3x the radius of the dripline of a kauri tree canopy) you may need to submit an earthworks PA risk management plan.

You won't need to have an additional plan if your council already has rules in place to manage the risks of PA pathogen spread during earthworks. Tiakina Kauri will work with district councils to try to incorporate this requirement into/alongside any other council permissions required for earthworks.

Note: this rule is being implemented on 2 August 2023 to allow people/businesses time to adopt best practice earthworks management processes.

6

Stock exclusion notice

This rule requires stock to be excluded from areas in which their movement poses a high risk of spreading the PA pathogen, eg. where PA has been detected in a kauri forest within 500m from where the stock can access that forest.

For other high-risk situations, stock exclusion notices may be made on a case-by-case basis.

7

Restriction on release of animals

This rule prohibits the release of animals into kauri forest areas, building on the existing legislative prohibition on the release of animals into public forests.
There are some exceptions, for example to allow the transfer of animals under a Department of Conservation permit.

This rule does not restrict bringing dogs or companion animals into kauri forest areas but does require that dogs be in close contact and care of a person, as well as being free of visible soil and organic matter before entering - and after being in - the forest.

8

Obligation to clean items before entering or exiting kauri forest

If you are going off track in a kauri forest area, or onto a track where you will touch the forest floor, this rule means that anything that comes into contact with the ground (eg. shoes, walking sticks, tyres) must be clean before you enter, and when you exit, the area.

9

Obligation to use cleaning stations

If you see a hygiene station in a kauri forest area, eg. at the start or end of a track, you need to use it. Most commonly, the hygiene station will require you to clean your footwear using items such as brushes or sprays that have been provided.

10

Open tracks and roads in kauri forest

This rule introduces minimum requirements for publicly accessible tracks and roads that go through kauri forest areas. Farm roads or tracks that are not open to the public are not affected by this rule.
Our role is to work with private landowners and the community in Northland to assist with identifying and managing kauri dieback. We also have a role to play in raising awareness and providing education on kauri protection across the entire region.
NRC Kauri Protection staff are helping Northlanders protect kauri by:
Soil sampling of kauri across private lands in Northland
Developing management plans for all sites sampled
Increase awareness of landowners, community groups, forest users and the public through events, engagement, school visits and publicity campaigns
Provide hygiene information and equipment to those that need it. This includes provision of hygiene stations
When possible, fund fencing for private landowners to fence forest blocks in order to protect kauri on their land.