This webcam lets people monitor Kaeo River flooding, which can overflow State Highway 10 just North of the Kaeo Fire Station.
The webcam shows the river with a coloured staff gauge located behind the Fire Station in the background. The colours show Peak Flood Level in 2007 Red, SH10 flooding Yellow and Dip Road flooding Orange.
Please note that the Yellow band indicates when water is reaching SH10. Traffic movements along the road at the top of the screen can also be a useful guide. However, the official 'open/closed' status of SH10 is the responsibility of the NZ Transport Agency and up-to-date travel information can be found here.
www.journeys.nzta.govt.nz/traffic
Flooding at this location can recede relatively quickly, depending on conditions. If you are planning to share still images (screenshots) from this webcam on media/social media platforms, please be responsible about encouraging viewers to check for the latest information.
Webcam images
Note: When viewing on a smartphone, rotate the phone to landscape to see the water level marker. If an error message displays, try refreshing your screen.
Troubleshooting
If you are continually checking the webcam, you may need to close the webcam, refresh this page and then re-open the webcam to get the latest image.
No night-time photos
The camera is not equipped to take photos at night. Therefore no photos will be available during the hours of darkness.
Camera view
The camera is looking at the Kaeo River. The river flows away from the camera towards SH10.
Frequency of the images
Images are taken every 10 minutes.
Flooding threshold water levels
The reference board indicates critical water levels.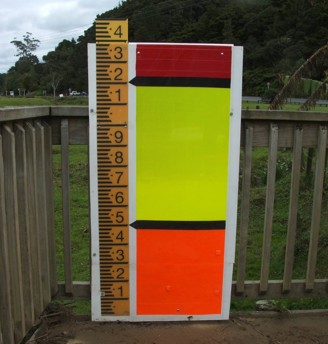 4.200m (red) Flood Peak 2007
3.500m (yellow) Point where flooding reaches SH10
3.000m (orange) Flooding Dip Road