Volunteer
Want to get involved in Northland's sustainable management?
One hour, one day, one week... short term or long term... volunteering offers new opportunities, new friends and the chance to make a difference.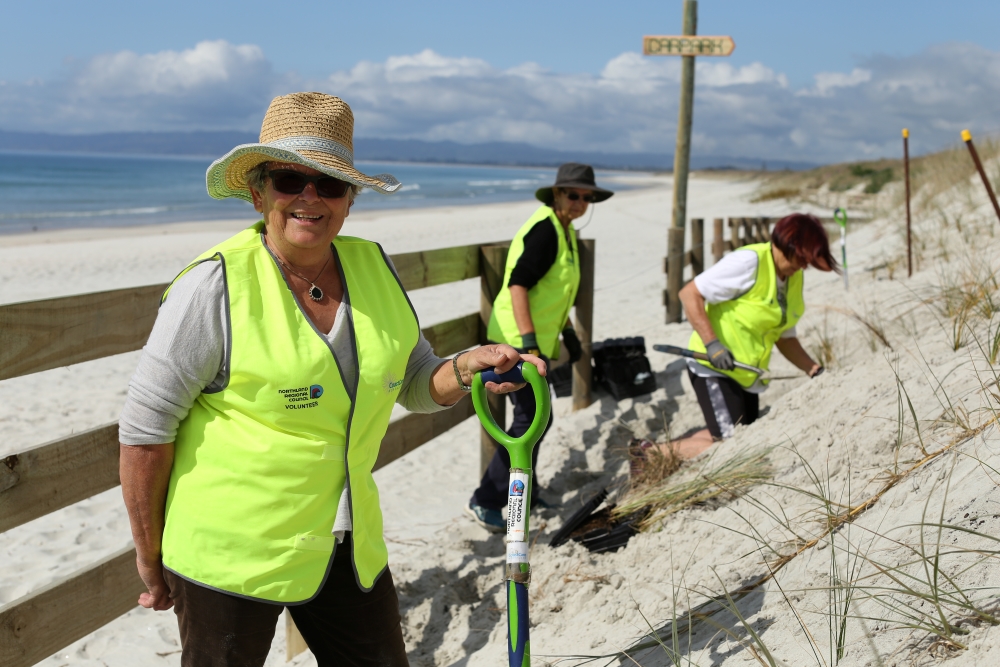 Planting days are a great way to get involved and make a difference.
Check out these volunteering options...
CoastCare
Look after and improve the health of your local sand dunes and beaches. Find out if there's a local CoastCare group in your area and join up!
www.nrc.govt.nz/coastcare
Landcare
Become part of your local community working to improve locally-important land management. NZ Landcare Trust works with more than 150 landcare groups on a broad range of landcare projects. Find out if there's a local landcare group in your area and join up.
www.landcare.org.nz/regions-and-people
Civil Defence
Help your local community response group in a civil defence emergency.  Check out the following website link to see if your community has one of these groups you could volunteer with and then get in touch with your local district council to connect.
www.nrc.govt.nz/communityresponseplans
Friends of Matakohe - Limestone Island
Contribute to the health of a New Zealand island jewel – Matakohe-Limestone Island in Whangarei Harbour. Go to its website to find out about adopt-a-spot and other volunteering opportunities. Always lots going on!
www.limestoneisland.org.nz
Conservation
Get involved helping with volunteering for conservation. Wide-ranging volunteering options for Northland and New Zealand with the Department of Conservation.
www.doc.govt.nz/get-involved/volunteer
Sea Cleaners
Help with cleaning up your local coastline. Sea Cleaners helps keep our coastline clean.
www.seacleaners.com
Green Dates
Help your community to turn a world green date local! Find the dates and community events that provide an excellent opportunity to raise awareness of our environment.
www.nrc.govt.nz/greendates
Volunteering Northland
Volunteering Northland encourages participation over a range of activities including Conservation, Sport, Health, Education, Arts, Culture and more. All of us are working towards making Tai Tokerau a vibrant and sustainable place to live.
Check out all the Northland opportunities.
volunteeringnorthland.nz
Video series: Planting in our neighbourhood
This short video series follows a community planting event along the banks of the Waiarohia Stream in urban Whangārei.
It's near Northland Regional Council's Whangārei office, so a team of our staff headed over to help get the plants in the ground.
Episode 1 - Laura Welsby
Check out the story of a community planting event along the banks of the Waiarohia Stream in urban Whangārei.
In this episode, Laura Welsby talks about the wider planting project in Northland that this event is a part of.
Episode 2 - Tom Payton
In this episode, Tom Peyton from Whangarei Intermediate School talks about the school's connection to the Waiarohia and what the students get out of being involved.
Episode 3 - Marcus and Arama
In this episode, planting volunteers (and NRC staff!) Marcus Schlesier and Arama Morunga talk about why they're involved in planting in their neighbourhood.
Episode 4 - Duncan Kervell
In the last episode of this series, Land Team Manager Duncan Kervell talks about the importance of and opportunity for planting in our region.