Hard work and environment fund grants protect the Wainui River : Case study
With the help of Environment Fund grants, Scott and Lyn Morgan have completed about four km of stock exclusion fencing along the length of the Wainui River where it flows through their properties on Fern Flat Road and Otangaroa Road.
It's taken several years and a lot of hard work to finish the project on their two beef farms but the grants and the support from Northland Regional Council's land management advisers Anita Semenoff and Jenny Gillanders has really helped.
"It's been so easy," Lyn says. "We haven't had to do any paperwork ourselves. Anita came out to the farm and put together our first funding application and Jenny has taken over the process. They made everything so straightforward. I can certainly recommend both the fund and the way it's administered."
Fencing-off the river was something of a labour of love for Scott and Lyn. "We love the Wainui," Lyn explains. "Scott and the kids, Lily (12) and Samuel (9), were excited to see whitebait in the river and we wanted to protect the native fish for the future."
Scott and Lyn are also part of the E350 project, a Northland initiative of which NRC is a major funder along with industry sectors and central government. It is a mentoring programme to support farmers to improve environmental sustainability, profitability and wellbeing on their farms. The NRC land management team supports the environmental aspect of the project by providing farm environment plans, alongside Fonterra.
Go to the 'vacancies' section of the Northland Inc website for more information
Scott and Lynn are in the last year of their three-year programme and have learnt a lot and increased their farms' profitability. They are grateful for the support from their mentor farmers, Jeff Martin and Helen Linssen.
"We're quite driven and we've always got a project on the go," Lyn says. "Our next goal is riparian planting. We've fenced off a dam that feeds in to the main river and have planted poplars in some of the erosion-prone areas. Next we hope to get funding to plant native plants in the riparian areas."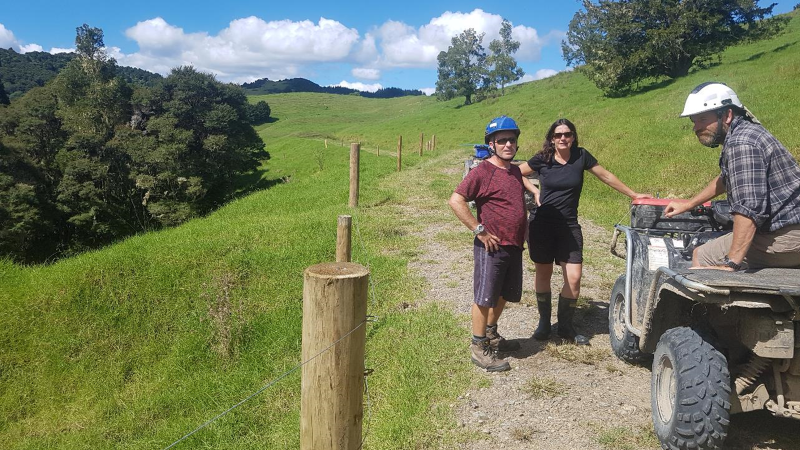 Scott and Lyn Morgan, with their mentor farmer, Jeff Martin (on the quad), next to a new riparian fence that was supported by an environment fund grant.