Working with us
Here you'll be working alongside an amazing, diverse and highly-skilled team of around 300 to make a real difference for our environment and people. It's deeply satisfying mahi, and there are plenty more benefits to working with us too.
What we do
We work alongside tangata whenua and communities to care for and manage our precious rivers, lakes, biodiversity, soil, air and coast here in Te Taitokerau. We also co-ordinate civil defence, transport and economic development.
We're deeply committed to creating a healthy environment, strong economy and resilient communities – and we would love you to join us.
Benefits of working for us
We know there is much more to work than just salary. We offer great benefits that support wellbeing, lifestyle, family life and career. Here are some of the perks you can expect when you join our council whanau.
Work life balance
Extra paid leave over Christmas period
Flexible working options
Paid sick leave from day one
Perks and personal development
Investment in your growth and professional development
Management and leadership training opportunities
Employee discounts scheme
Culture and community
Recognition and rewards
Cultural competency development like te reo and tikanga training
Opportunities to give back to the community
Health and wellbeing
Discounted gym memberships and health insurance
Wellbeing initiatives, workshops and activities
Free, confidential and independent support when you need it
Our culture
We work together with integrity, courage and pride for a thriving Taitokerau.
Our culture is the heart of our organisation, and it sets the tone for how we work together. It is supported by seven behaviours that guide our relationships with each other and our communities.
Listen - with respect, curiosity and an open mind.
Kotahitanga - collaborate, mentor and share to achieve more together.
Choose positivity - be optimistic, and see the opportunities in the challenges.
Whanaungatanga - embrace the diversity of our people and celebrate our common interests.
Do the right thing - be fair, use common sense and show manaakitanga.
Own it - stand by our decisions, celebrate our success and acknowledge our mistakes.
Learn and improve - grow through reflection and innovation.
Diversity Works New Zealand
As a member of Diversity Works New Zealand, we are committed to: Creating a workplace with fair, reasonable and flexible employment practices which enable people to flourish and perform to their best.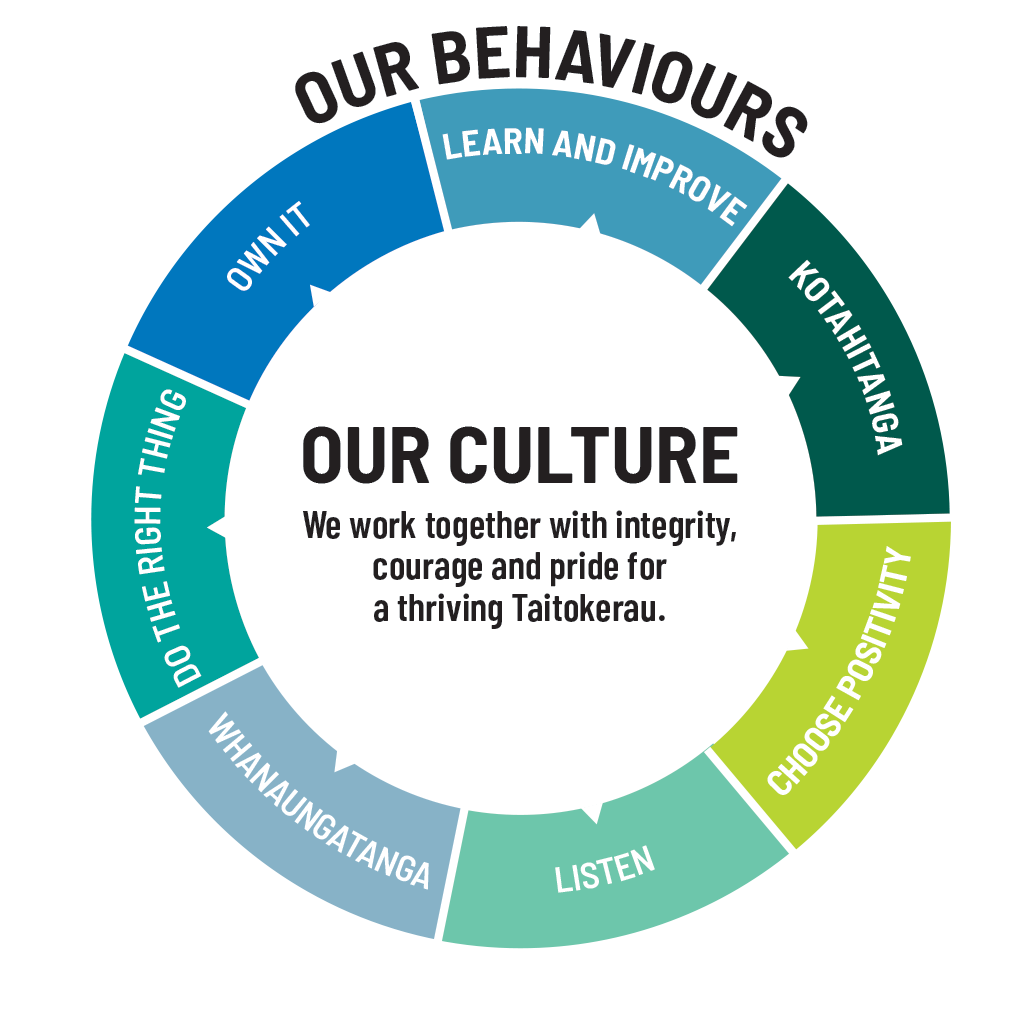 ---
Be yourself at work
We are proud of our diverse work environment and aspire for inclusiveness to be embedded in our everyday practise. We are committed to building belonging and whanaungatanga, valuing and every individual for what makes you, you.