Before heading out on the water
The following is an outline of essential basic safety advice. For your own safety seek advice from instructors and experienced kayakers, and complete a safety course before buying your boat or heading out on the water.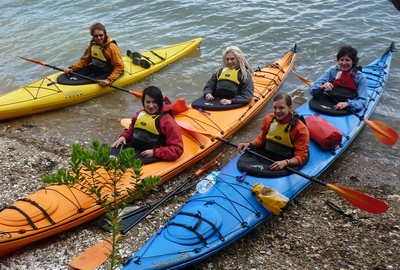 Weather and water conditions
Check the local area marine weather forecast and note the wind speed and direction, sea conditions and any forecast weather changes.
Equipment
Before you go be sure to check all your gear and equipment is sound and safe.
There are no cracks or splits in kayaks and paddles.
Your personal flotation device is in good condition with all clips working and preferably with a pea-less whistle attached.
Your kayak has some form of internal buoyancy.
Signals and communication
Take some form of communication with you to use when you need assistance. This could be:
VHF radio or mobile phone (in waterproof pouch)
Torch
Signal mirror
Flares
Personal locator beacon (PLB) or emergency position indicating radio beacon (EPIRB).
Remember your VHF radio. A quick message on Channel 16 to surrounding vessels stating that you are on the water can alert them to your presence.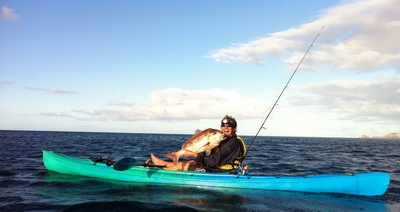 Visibility
During daylight increase your visibility on the water.
Choose bright colours that contrast with the environment – for your kayak, personal flotation device, clothing and hat.
Display an orange or yellow 'chopper' guard flag on the stern (back) of your kayak if you're kayaking where there are lots of other boats.
Stick reflective day glow tape to your paddle blades as this improves visibility – people can see them as you paddle.
At night you are required by law to have an all round white light or a bright torch which must be shown in plenty of time to prevent a collision (wearing a head torch will allow your arms to be free to paddle).
If using an all round white light (or a red, green, or white sector light) this must be mounted above head height so it can be seen from all directions.
Plans
Leave your trip intentions with a reliable source. Include relevant information:
Number in party
Where you're launching from and when you expect to be back
Overdue action time – who to contact if you're away longer than you planned (either the Police or the Coastguard) and what time that should happen.