Which plants where?
Dune systems can be roughly divided into three zones – foredunes, mid-dunes and back-dunes – all of which can vary in width. Some may also have wetland areas and even lakes. Each zone provides a very different environment for native plants to grow in.
Dune systems don't necessarily have all three zones. For example, some may have little more than a foredune left where roads and buildings have been built on landward zones.
The diagram below indicates where some of the different native plant species naturally grow on an unmodified dune system (this will vary from site to site).
Find a larger version of the dune plant sequence diagram in pdf format (184KB)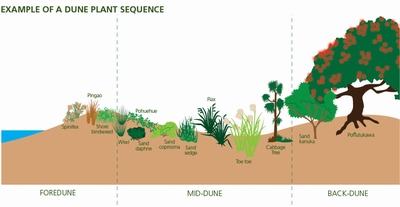 Example of a dune vegetation sequence (adapted from an Auckland Council diagram).