Environment
Landforms and soils
Northland consists of a narrow peninsula, less than 100 kilometres across at its widest point, bounded by the Tasman Sea and Pacific Ocean. The region is unlike most of New Zealand in that there are few mountain ranges and the highest point, near Te Raupua in the Waima Range, is only 781 metres above sea level. Sand tombolos and their associated shrublands, wetlands and dune systems are a feature of Northland's Far North, with the Aupōuri, Karikari and Poutō peninsulas being the best known examples.
The typical inland topography is one of rolling hill country with landforms ranging from the ancient uplifted east coast greywacke rocks to relatively young volcanic lava and active coastal dunes. Many rivers, streams, tidal inlets and harbours dissect and break the pattern of hills. Modest areas of flat low-lying land are restricted to areas next to the Awanui and Northern Wairoa rivers.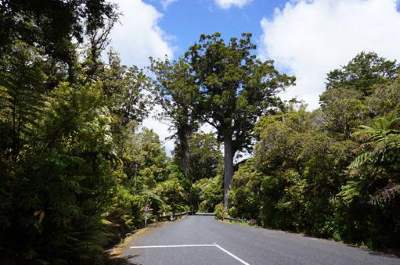 Kauri in Waipoua Forest – areas forested by trees like kauri tend to have leached and infertile soils.
The New Zealand Land Inventory (NZMS 290 map series) identifies over 230 different soil types in Northland. This variety is due to differences in underlying rock, the low relief and the influence that the warm moist climate and original vegetation have had on soil forming conditions.

Northland green gecko (left) (© Richard Parish) and the North Island brown kiwi (right) (©P. Graham) – are just some of the diverse species found in Northland.
The composition of the original indigenous forest is probably the prime influence on soil properties. Areas which were once forested by trees such as kauri, totara and kahikatea tend to have produced soils that are strongly leached and infertile. A succession of kauri over thousands of years has modified many of Northland's soils by creating acidic, infertile podzols.
At the extreme, kauri gumlands are wetlands, with hard impervious pans and short stunted vegetation. On the other hand, areas forested by broadleaf trees such as puriri, kohekohe, taraire and tawa, generally have fertile top soils due to the ability of these trees to retain nutrients. The main exceptions to these soil types are those formed as a result of volcanic activity and recent stream and river deposits.
Much of the land surface has been subjected to deep weathering due to long exposure to a warm and moist climate, leaving a thick mantle of clay-rich soils over unearthed rock.
Native forest and shrublands
Some 32% of Northland's land area remains in native vegetation including over half of the nation's remaining kauri forest. The region's forest and associated shrublands are notable for their high native content, species diversity, structural complexity, and tropical links.
Podocarp/hardwood/kauri forests are the most extensive forest type in Northland. These comprise a wide variety of hardwoods including rewarewa, kohekohe, tawa, pukatea and taraire among others. Podocarp species such as rimu, totara, miro and matai are scattered throughout the region, along with kauri, which often grow in small clumps on steep sites.
Other distinctive forest types are evident on the coast, such as manuka/kanuka shrublands found at Te Paki in the Far North. Volcanic broadleaf and flood plain forests are two types which have been severely diminished by land development.
The coastal forest often comprises pōhutukawa, houpara, and kōwhai together with karaka, puriri and kohekohe. Kauri and podocarps occur in some areas as does a transition to estuarine mangrove forest.
The majority of these forested areas have been modified by human influences through logging and forest clearance. These forest and shrubland areas support a rich diversity of wildlife. They are home to large populations of nationally rare or declining species such as the North Island brown kiwi, North Island kōkako, native pigeon or kukupa and Hochstetter's frog, as well as small residual populations of more threatened species such as the red and yellow crowned parakeets, kaka and long and short-tailed bats.
Some forests in the region also support the only naturally breeding populations of species including flax snail, kauri snail and the Northland green gecko. Survival of these and other species is threatened by adverse effects of human activity such as forest clearance, the activities of animal pests (for example, possums, wild cats, and poorly controlled domestic dogs) and plant pests.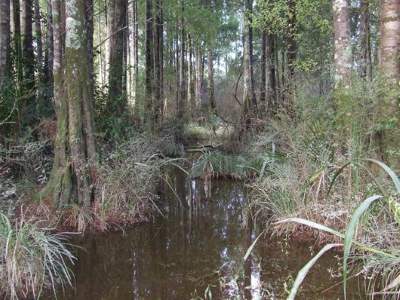 Kahikatea swamp forest, Dargaville – one of Northland's distinct forest types.
Rivers and streams
Northland has a dense network of rivers and streams, many of which are relatively short, and with small catchments. Most of the major rivers have their outlets into harbours while few have outlets discharging directly to the open coast. Flows in the rivers vary considerably due to rainfall, with high intensity storm rainfall causing flash floods and prolonged dry spells leading to very little flow in many smaller catchments. (Figure 28 shows the major rivers and their catchments.)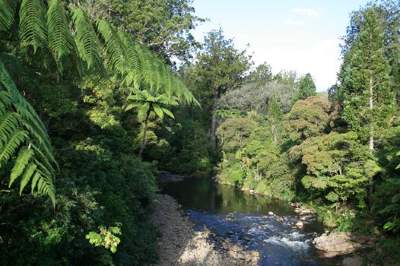 (Image copyright: Mike Farrow).
Most of the rivers and streams in Northland, with the exception of the Northern Wairoa, are relatively short with small catchments. While river flows vary considerably, Northland's rivers are generally characterised as being slow flowing and muddy. The rivers with the highest conservation value are those whose catchments are the least modified, and include the Waipapa and Waipoua rivers. (For information on water quality and quantity in rivers see Chapter 4 – Our freshwater.)
Figure 28: Major rivers and streams in Northland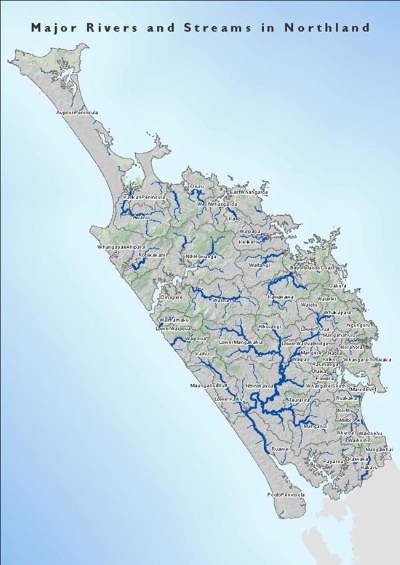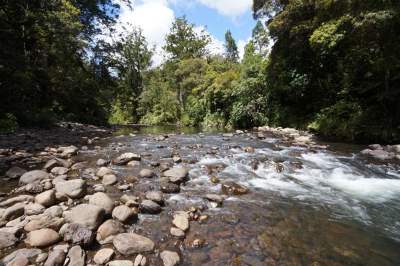 The Waipoua River – one of Northland's major rivers.
Lakes and wetlands
Northland has over 400 freshwater lakes, with many of these of national and international significance. Northland has the greatest number of dune lakes nationally and represents a large proportion of warm, lowland New Zealand lakes with relatively good water quality.
These lakes and their surrounding wetland margins support a range of endemic endangered species providing the only known habitat, or national strongholds for a range of biota. Perhaps the most outstanding character of these lakes is the currently limited impact of invasive species on their biota, which is unparalleled in any other region of mainland New Zealand (Champion et al: 2012).
Most of Northland's lakes are situated along the west coast, having been formed between stabilised sand dunes. The dune lakes are in four main groups situated on the Aupōuri Peninsula, Karikari Peninsula, Kai Iwi lakes and Poutō Peninsula. They generally range in size between one and 35 hectares and are usually less than 15 meters deep.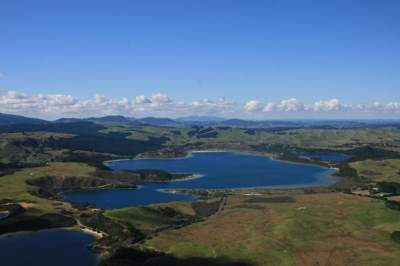 Kai Iwi dune lakes from the north-west (Copyright: Mike Farrow).
Lake Taharoa of the Kai Iwi group is one of the largest and deepest dune lakes in the country, covering an area of 237ha and being 37m deep. It has the deepest growing vegetation in the North Island, growing at a depth of 24m. Dune lakes usually have little or no continuous surface inflows or outflows, being fed primarily by direct rainfall or surrounding wetlands. As a result, water levels fluctuate considerably with climatic patterns and they have a limited capacity to assimilate any contaminants, because most of these lakes are relatively small and shallow. They are prone to nutrient enrichment from stock and fertiliser, particularly where lakeside vegetation has been grazed or removed and where there is direct stock access to the lake.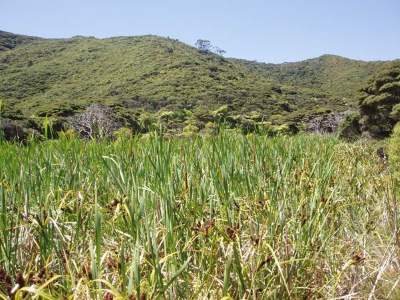 Raupō swamp, Cavalli Islands.
There are also several shallow inland lakes which originated through the damming of valleys by lava flows, such as lakes Owhareiti and Ōmāpere, near Kaikohe. Lake Ōmāpere appears to have formed some 80,000 years ago (Newnham et al: 2004). The lake reformed 600 to 700 years ago, attributed to siltation following deforestation of the area (Champion et al: 2012).
Further to the north are two large man-made lakes associated with the Kerikeri irrigation scheme, which are a major water resource for that area.
Northland also has many inland wetlands, the most significant being those linked with the mid-catchments of the larger rivers, such as Kaipeha Swamp, Lake Owhareti, Ngāwhā Springs Wetlands, Mōtatau Wetlands, Waitangi Wetland complex, Punakitere Wetlands and Mangonui River Wetlands.
Gumlands are the least fertile and most acidic of the wetlands and are normally found on gently sloping ridges. They are uniquely associated with ancient kauri forests where over thousands of years, kauri have dropped acidic litter causing nutrients and organic material to leach out of the soil. This has left a hard silica pan, which is a barrier to water draining away. Gumlands are home to an unusual community of plants and animals which have adapted to survive in harsh infertile environments. These include stunted manuka, Schoenus brevifolius, Baumes sedges, tangle fern, Gleichenia dicarpa and the Northland green gecko.
The original area of wetlands has been greatly reduced, to less than 5.5% of its original extent, due to drainage and conversion for agricultural purposes. Remaining wetlands show evidence of these practices – they are small, scattered and vulnerable to changes in hydrological regimes. The most significant areas of dune lakes and wetlands remaining are Aupōuri Peninsula, Karikari Peninsula, Lake Ohia, Kai Iwi Lakes and on Poutō Peninsula.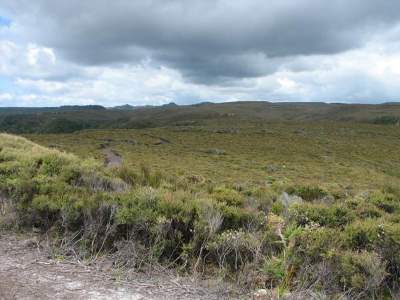 Epakauri Gumfield, Ahipara.
Bog at Lake Ohia, overlaying ancient kauri forest.
These lake and wetland ecosystems are important habitats for a wide variety of plant and animal species, which are regionally or nationally significant because of their rarity. These species include birds such as the brown teal, banded rail, NZ dabchick, marsh crake, fern bird and Australasian bittern, the aquatic plants Hydatella inconspicua, Myriophyllum robustum and native freshwater fish, the black mudfish, Northland mudfish, giant kōkopu, banded kōkopu, short jawed kokōpu and dwarf inanga.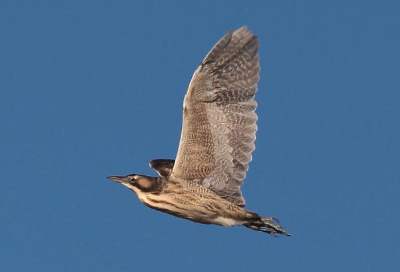 Australasian bittern (©Peter Langlands).
(For more information on lakes see Chapter 4 – Our freshwater, and for wetlands see Chapter 3 – Our land, our air.)
For more information on wetlands go to: www.nrc.govt.nz/wetlands
Groundwater
Groundwater is water that runs through and is stored in, soil and rocks. It is a valuable water resource to Northland, being used for numerous town and rural water supplies, irrigation and stock water. Whāngārei, Kaitāia, Mangōnui, Kaikohe, Ōkaihau, Maungakaramea and Ruawai all take groundwater for community water supplies. Groundwater is also an important water source for many coastal areas, such as Russell, Taipā and Matapōuri.
In general there are three main types of water-bearing geological formations (aquifers):
• Sands and gravels, which are found along both coasts. Old coastal dune formations, where they are thick and extensive, such as on the Aupōuri Peninsula, can yield large quantities of water. Smaller, shallower areas such as those behind east coast beaches like Taipā and Matapōuri, also provide sufficient quantities of water for small-scale community and individual domestic supplies.
• Volcanic cones and related lava flows are younger features, which occur particularly around Kaikohe and Whāngārei, yielding significant quantities of water capable of supplying smaller towns and intensive horticultural and farming areas.
• Sedimentary rocks, such as greywacke and crystalline limestone. Significant quantities of water can be obtained from weathered and/or fractured greywacke, such as is found at Russell, or from crystalline limestone, like that found at Hikurangi.
Geothermal fields represent an unusual variation in which water is subject to heat and pressure as the result of geothermal activity. Northland has one geothermal field centered on Ngāwhā Springs to the east of Kaikohe. It is different from most other fields in the country in that a relatively thick (500m) impermeable caprock covers the geothermal reservoir preventing the formation of major surface hot springs.
The surface of the Ngāwhā geothermal field is characterised by small gas and hot water seepages and springs.
These surface emissions have considerable cultural and spiritual value to tangata whenua and are used for bathing by local residents and visitors, some for therapeutic purposes.
Under the Resource Management Act, geothermal resources are treated in a similar manner to other water resources. The regional council is given primary responsibility for controlling the taking or use of geothermal fluids including geothermal energy. It is also responsible for controlling any discharges of contaminants that may result from the use of geothermal fluids. (For more information on groundwater quality and quantity see Chapter 4 – Our freshwater.)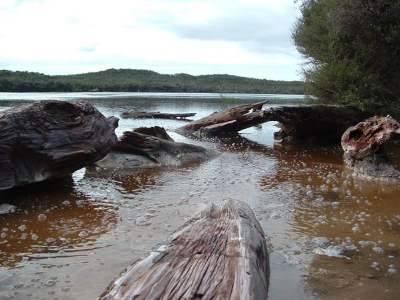 Lake Waiparaheka, Ngāwhā Springs (geothermal).
Coastal areas
Northland's coast is arguably its most distinctive physical feature. The coastline is some 3200km long and its many harbours, together with a warm temperate influence (or climate) set the Northland coast apart from other areas of New Zealand.
The west coast of the region has a relatively smooth outline broken by the mouths of several extensive shallow harbours. In contrast, Northland's eastern coast forms an irregular line with rocky headlands, sheltered deep water harbours, sandy bays and mangrove forests.
The west coast of Northland is exposed to almost continuous onshore oceanic swells that cause turbulence, turbidity and sediment movement in shallow marine and inter-tidal habitats. Marine species occupying this type of environment are consequently few and hardy.
Beach and dunefield habitats are significant in several respects. Coastal dune systems associated with lakes, wetlands and shrublands are home to several endangered plant species, with beaches important as roosting, nesting and feeding areas for coastal birds, such as the threatened New Zealand dotterel, the rare and endemic variable oystercatcher and the endangered fairy tern.
The west coast harbours (Kaipara, Hokianga, Herekino and Whāngāpē) and the east coast harbours (Pārengarenga, Rangaunu, Houhora and Whāngārei) as well as numerous lakes and swamps, are valuable feeding grounds for migratory waders such as plovers, godwits, turnstones and tattlers.
Harbours and estuaries within drowned river valleys are common along the east coast of Northland. Most are ecologically similar to those on the west coast, but Pārengarenga, Houhora and Rangaunu harbours differ in that they have large inter-tidal sand flats and shell banks.
Extensive areas of mangrove forest and salt-marsh are present in harbours on the east and west coasts of Northland. These habitats are invaluable as a rearing ground for juvenile fish species including many commercially exploited species, and important feeding and roosting areas for birds.
The east coast of Northland is predominantly rocky with intervening sandy beaches. Marine habitats containing locally endemic species and New Zealand endemics that are very rare elsewhere are present at the Three Kings Islands and in the Cape Rēinga areas. These areas and also the Moturoa Islands, Cape Karikari, Cavalli Islands, Cape Brett and the Poor Knights Islands are influenced by the East Auckland current. This warm subtropical current brings with it the larvae of Indo-Pacific species including several species of molluscs, echinoids (sea-eggs) and a variety of fish. The larvae mature within the areas washed by the current, and along with many endemics, make these areas ecologically unique.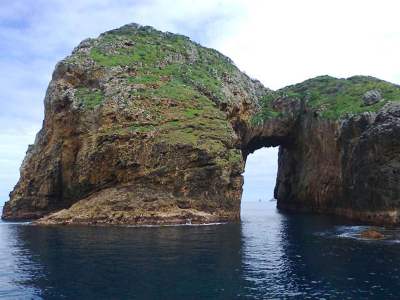 Poor Knights Islands.
Indigenous terrestrial coastal vegetation in Northland has been largely removed or otherwise modified by human influences. Unmodified coastal forest is now very rare, being present on some islands, and at only a few places on the mainland: Herekino Harbour mouth and Ninety Mile Beach (Te Oneroa a Tohe). Indigenous dune field vegetation is similarly rare and restricted to areas such as North Cape, the north heads of the Kaipara and Hokianga harbours and isolated areas on the east coast.
(For information on coastal water quality, and biodiversity and biosecurity see Chapter 5 – Our coast.)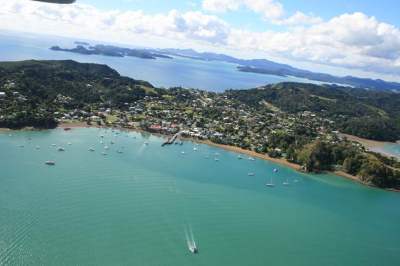 The Bay of Islands, Northland (Copyright: Mike Farrow).
Outstanding natural features, landscape and character areas
Northland has a great variety of landscapes and landforms occurring across a range of rural, coastal and marine environments, with a complex matrix of cultural and historic associations. The unique character and values of these areas set Northland apart and play a key role in creating the identity of the region. While many of these environments are subject to human modification, a significant proportion of Northland is in a relatively undeveloped state.
While all environment types have some degree of value, there are areas with particular significance – these areas are the focus of sections 6(a) and 6(b) of the Resource Management Act (the act).
The act identifies preservation of the natural character of the coastal environment and freshwater bodies as a matter of national importance (section 6(a) the act). It applies similar direction for outstanding natural features and landscapes (section 6(b) the act). While a requirement of the RMA, managing landscape and natural character values also contributes to social, cultural and economic well-being.
Outstanding natural landscapes
Outstanding natural landscapes are assessed and identified using a number of criteria established in case law. These include:
• Geology, topography, ecology and associated formative processes;
• Aesthetic, visual, natural or wilderness values;
• Cultural, spiritual or historic associations; and
• Memorability, legibility and expressiveness.
Examples identified to date include Cape Brett and Whāngārei Heads.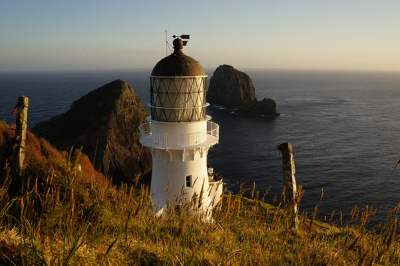 Cape Brett lighthouse (©: John Ballinger).
Outstanding natural features
In Northland, the identification of outstanding natural features has been informed by the use of the Geopreservation Inventory (Geological Society: 1995). This inventory provides a list of unique geological landforms and features, such as fossil beds, limestone outcrops, volcanic cones and unusual sediments.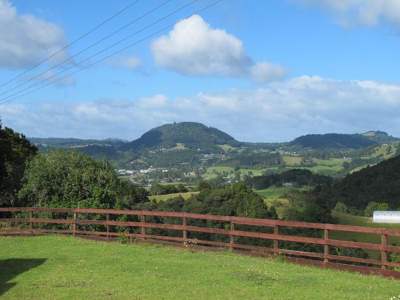 Hurupaki and Parakiore volcanic cones, some of Northland's outstanding natural features (©: Simon Crocker).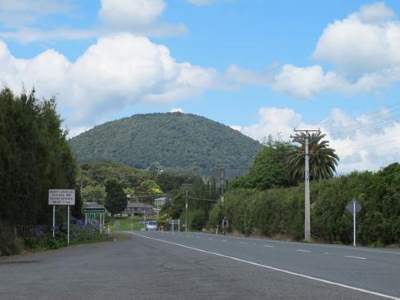 Maungatapere volcanic cone from State Highway 14 – another outstanding natural feature (Copyright: Simon Crocker).
Natural character
Natural character is essentially a measure of how 'natural' a given area is on a spectrum from completely modified by human activity (for example, an urban area) to pristine (completely natural). Natural character is typically assessed on a case-by-case basis in Northland as it has not been explicitly mapped in plans to date. Natural character assessment can include:
• Biophysical, ecological and geological patterns and processes;
• Natural movement of water and sediment;
• Modification by buildings, earthworks, pests or weeds; and
• Experiential factors (for example, noise, smell etc.).
While these matters have been part of the Resource Management Act since 1991, there has been wide-ranging debate and contention over how such areas should be identified and managed. As a result, there has been an inconsistent approach across the region.
While all district plans have outstanding natural feature/landscape maps, these vary widely in content. The regional plans do not map these areas at all. A review of existing outstanding natural feature/landscape maps in district plans stated that these would not be considered consistent with case law or current best practice and would be vulnerable to challenge (Miskell: 2010). As noted above, natural character has not been mapped at all in Northland to date. Plan provisions are similarly varied.
The result has been cross-boundary inconsistency and outstanding natural landscapes not being identified as such, and subsequently not managed as well as they could be. In some cases, this has led to uncertainty and significant costs for developers, landowners and councils as these issues are debated repeatedly in consent and plan change processes.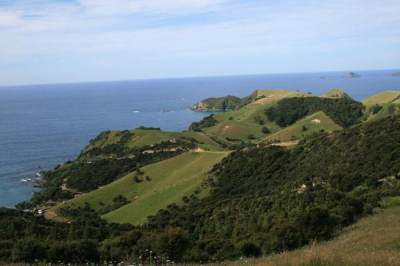 Mapping Northland's unique coastal environment (©: Mike Farrow).
This debate over landscape and natural character is set to continue as a result of the New Zealand Coastal Policy Statement 2010. The coastal policy statement requires councils to identify and manage outstanding natural features/landscape and natural character values in the coastal environment.
In response to these issues, the council has embarked on a regional mapping project to provide a consistent approach to identifying:
• The coastal environment
• Outstanding natural features/landscapes
• High and outstanding natural character.
This will also assist all Northland's councils in implementing key policies of the coastal policy statement. The resulting maps will form part of the Proposed Regional Policy Statement for Northland (see www.nrc.govt.nz/rps for details).

What do we want for our outstanding natural features, landscape and character areas?
The operative Regional Policy Statement for Northland 2002 contains several objectives relating to outstanding natural landscapes and features including:
• The identification of outstanding natural features and outstanding landscapes and their protection from inappropriate subdivision, use and development.
• To recognise, in the identification and protection of outstanding natural features and outstanding landscapes, that their values include intrinsic values of ecosystems, ecological, heritage, cultural, spiritual, and amenity aspects.
• Any adverse effects of human activities on natural and physical resources are avoided, remedied or mitigated so that the qualities and values of any outstanding natural features and outstanding landscapes are maintained.
The operative Regional Policy Statement also includes anticipated environmental results, related to measuring the impact of policies that are designed to meet the objectives. Included below are the relevant anticipated environmental results for outstanding natural landscapes and features and a high level assessment of the outcome:
Identification and community-wide acknowledgment of the region's outstanding natural features and outstanding landscapes
• Outstanding natural features and landscapes have partially been identified through mapping across the region by district councils although there are gaps present in some areas with inconsistencies in the methods used. A mapping exercise is being undertaken by the regional council across the region identifying outstanding landscapes and features using consistent region-wide criteria.
There is a direct link between the community's perception of landscape qualities and their protection for the community's enjoyment
• Anecdotally it is clear that some landscapes and features in the region are well known and admired by the community. The 'aesthetic' appeal of a landscape and how it is valued forms part of the criteria for assessing whether it is outstanding.
Protection of the character and qualities of the region's outstanding natural features and outstanding landscapes
• District plans contain provisions related to the protection of outstanding natural landscape and features. However, these provisions vary considerably between districts.
Preservation of the natural character of the region's coastal environment, wetlands, and lakes and rivers and their margins through the protection of outstanding natural features and outstanding landscapes
• Since this anticipated environmental result was developed, what is described as natural character has taken on a broader meaning (as defined by the New Zealand Coastal Policy Statement 2010). This criteria has therefore not been assessed but should be addressed in future state of the environment reporting.
References
Northland Lakes Strategy. Prepared for Northland Regional Council by, P. Champion and M. de Winton, NIWA, June 2012.
Newnham, R.M.; Lowe, D.J.; Green, J.D.; Turner, G.M.; McGlone, M.M.S.; Stout, S.L.; Horie, S.: Froggatt, P.C. (2004). A discontinuous ca. 80 ka record of late quarternary environmental change from Lake Omapere, Northland, New Zealand. Palaeogeography, Palaeoclimatology, Paleoecology 207: 165-198.
"Inventory (and maps) of Important Geological Sites and Landforms in the Northland Region", Geological Society of New Zealand unpublished report 95/2, edited by J Kenny and B Hayward (1995).
Review of the Landscape Assessment Methodologies used by district councils for identifying Northland's Outstanding Natural Features and Landscapes. For Northland Regional Council, Boffa Miskell, October 2010.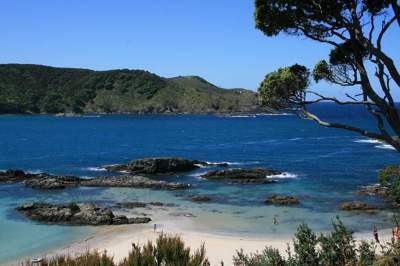 (Copyright: Mike Farrow).