17.1 Introduction
The present transportation network in the Northland region comprises of 6,530 kilometres of road, a rail link from Auckland via Whangarei to Kawakawa, a natural deepwater port at Marsden Point and commercial airports at Whangarei, Kerikeri and Kaitaia.
Regional Policy Statement objective
The Regional Policy Statement (RPS) for Northland (NRC 2002) contains the following objective relating to transportation:
· Maintain and enhance the safety and efficiency of the region's transport networks, while minimising adverse environmental effects.
Environmental results anticipated
The following is the anticipated environmental results after the implementation of the policies for transport in the Regional Policy Statement:
· Safe and efficient use of the transport network.
· Reduction in noise and other adverse environmental effects associated with transport facilities.
Regional Land Transport Strategy
The Regional Land Transport Strategy (RLTS) for Northland 2006 – 2016 is the fifth update since it was first released in 1993. The purpose of the RLTS is to provide a planning framework for the development of land transport in the region for the next 10 years that is integrated, equitable, responsive, safe and sustainable (NRC 2006).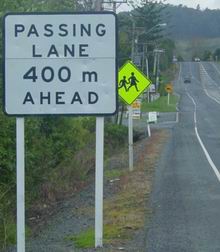 The RLTS has been developed in accordance with the requirements of Section 175 of the Land Transport Act 1998 and is aligned with the following objectives of the Land Transport Management Act 2003:
· Assist economic development;
· Assist personal safety and personal security;
· Improve access and mobility;
· Protect and promote public health;
· Ensure environmental sustainability.
Two additional objectives, considered important to Northland, have also been added:
· Integration of land use and transport planning;
· Ensuring an affordable and financially sustainable transport network.