5.3 What is being done?
Within this section…
Monitoring
Many of the industries in Northland that store and use hazardous substances are monitored on a regular basis by Northland Regional Council staff. The monitoring of these industries has increased since the signing of a contract with the Department of Labour to undertake inspections of workplaces storing and using hazardous substances.
Collection and operational depots
The Regional Council and PGG Wrightson Limited jointly operate four collection depots, located in Kaitaia, Waipapa, Dargaville and Whangarei. The PGG Wrightson collection depots accept all received agricultural chemicals, which are documented before being placed in the stores. Once stored, the substances become the responsibility of the Regional Council. The substances are regularly collected and transported to the Council's storage facility in Whangarei.
The Regional Council facility is specially designed for waste hazardous substances. At this site the hazardous substances are repacked, labelled and placed in temporary storage until being despatched to Auckland for long-term storage or disposal.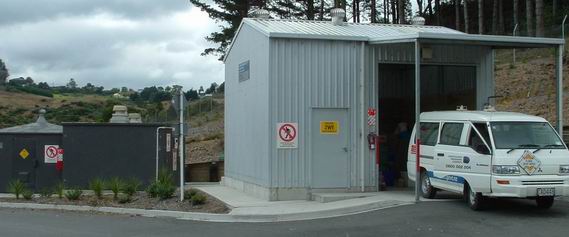 Regional Council hazardous waste storage facility.
Spill and safety equipment is available on-site at all PGG Wrightson collection depots, in the event of an emergency such as the accidental spill of hazardous substances. The Council regularly updates emergency procedures, as well as restocking equipment when necessary.
The Council also operates a mobile collection service where individual properties throughout Northland are visited to recover chemicals that may be leaking, require repacking or are in a deteriorating condition. The Council also provides assistance to private organisations requiring chemical disposal including the collection of laboratory wastes from schools and industrial wastes (such as solvents and timber treatment sludges) on a cost recovery basis.
Far North and Whangarei District Councils also have hazardous waste stores, from which the Regional Council collects all hazardous waste substances and special drop off areas where the public can leave used batteries and waste oil, which the district councils dispose off.
Agrecovery programme
Agrecovery is a national plastic container stewardship programme for the agriculture and forestry sector. It will provide farmers and growers with access to a sustainable environmentally preferred disposal alternative to landfilling and/or burning their containers.
The programme will be funded through a levy on product put in the market by participating brand owners (agriculture and forestry product manufacturers). In most regions the Agrecovery Foundation will manage all facets of the scheme.
In the Northland region the Council will initially manage the scheme on behalf of the Trust. Implementation of the programme in Northland has started with a shipping container located in Kaitaia in the Far North. Council staff will collect the empty containers from the PGG Wrightson stores ensuring that they are triple-rinsed and then deposit them in the shipping container.
In the future additional shipping containers will also be located at the Wasteworks site in Whangarei and at the yet to be completed FNDC Resource Recovery Centre in Kerikeri.