5.1 Introduction
Waste hazardous substances
A hazardous substance has one or more of the following properties: Explosive, oxidising, corrosive, flammable, can cause acute, chronic, immediate or delayed toxicity or has environmental persistence and ecotoxicity. There are a wide range of substances that have one or more of these properties.
There are approximately 40 different industries from the Hazardous Activities and Industries List (HAIL) (MFE 2004) in Northland that use hazardous substances on a daily basis as part of their manufacturing process and around 500 industrial sites. These industries in particular include the:
· Agriculture industry (insecticides and pesticides).
· Horticulture industry (insecticides).
· Forestry industry (timber treatment chemicals).
In addition there are a number of smaller industries that as part of their processes use hazardous substances. These include:
· Vehicle spray painters (solvent based paints).
· Boat builders (solvents and glues).
· Service stations (petrol, oil and gases).
In our homes on a daily basis we are exposed to hazardous substances in some shape or form. We use household cleaners, pool chemicals, herbicides, pesticides, and a wide range of petroleum-based products. In many cases we are unaware that we are using hazardous substances.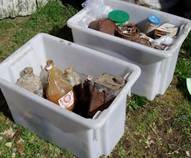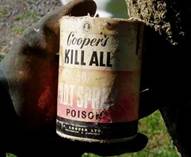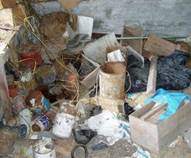 Examples of waste hazardous substances including household cleaners, pool chemicals, insecticides and old, redundant herbicides.
Contaminated sites
A contaminated site is defined as a site at which hazardous substances occur at concentrations above background levels and where assessment indicates it poses, or is likely to pose an immediate or long-term hazard to human health or the environment (ANZECC 1992).
In 2001 the Australian and New Zealand Environment and Conservation Council (ANZECC), was disestablished and replaced by the Environment Protection and Heritage Council, of which New Zealand is a member, and the National Environment Protection Council.
The current NZ Policy framework for contaminated land is based on a mix of measures that includes laws and regulations, guidelines and funding arrangements.
By definition the management of contaminated sites is closely linked to the management of waste hazardous substances.
Regional Policy Statement objectives
The objectives of the Regional Policy Statement for Northland (NRC 2002) for waste hazardous substances and contaminated sites are:
· Avoid remedy or mitigate the adverse effects on people and the wider environment arising from the storage, use, transportation and disposal of hazardous substances.
· Avoid, remedy or mitigate the adverse effects of the risks to people and the wider environment from existing contaminated sites.
Hazardous substances come in a variety of forms and are used in a wide range of different situations throughout the region. If they are improperly used, transported or disposed of, they represent a threat to human health and the life-supporting capacity of soil and water resources. Minimising the risk of such improper use is the key to preventing or mitigating their likely adverse effects on the environment.
Environmental results anticipated
The following is the anticipated environmental results after the implementation of the hazardous substances policies in the Regional Policy Statement (RPS):
· Increased public awareness of the risks associated with the improper use of hazardous substances.
· A reduction in the amount of hazardous waste requiring disposal.
· A reduction in the number of incidents of unauthorised disposal of hazardous waste.
· Greater control over the use of contaminated sites and protection against serious off-site environmental damage.
· Continued access to hazardous waste storage and disposal facilities.
Resource Management Act 1991
Under the Resource Management Act 1991 Regional Council responsibilities relating to hazardous substances include:
· Controlling the discharge of contaminants to the environment (Section 15);
· The control of the use of land for the purpose of - the prevention or mitigation of any adverse effects of the storage, use, disposal and transportation of hazardous substances. (Section 30); and
· The investigation of land for the purposes of identifying and monitoring contaminated land. (Section 30)
Other legislation
Prior to the introduction of the Hazardous Substances and New Organisms Act in 1996 hazardous substances were controlled under the following legislation: Dangerous Good Act 1974, Toxic Substances Act 1979, Explosives Act 1957, Pesticides Act 1979, Animals Act 1967, Plants Act 1970 and parts of the Fertiliser Act 1982.
Under the previous legislation only one hazardous property of a substance may have been considered so not all the hazardous properties were managed and most of the legislation was not designed to protect the environment. For example, a flammable substance would have triggered controls for just the flammability properties and may have no controls relating to the toxic or ecotoxic properties.
Under previous legislation in New Zealand there were many examples where humans suffered ill effects through contact with hazardous substances, and land contaminated by hazardous substances.
Hazardous Substances and New Organisms Act 1996
The main focus of the Hazardous Substances and New Organisms (HSNO) Act 1996 is the management of the life cycle i.e. identification, packaging, storage, emergency preparedness, tracking, use and disposal of imported and manufactured hazardous substances. The aim is to protect the environment and the health and safety of people and communities, by preventing or managing the adverse effects of hazardous substances.
Responsibilities under the Act
The HSNO Act requires any person associated with hazardous substances to:
· Avoid remedy, or mitigate any adverse effects of that substance on any other person or the environment caused by their actions or errors.
· Comply with any requirements or controls on that hazardous substance.
Every person in New Zealand who is involved with hazardous substances and new organisms has a duty to meet the requirements or controls on that hazardous substance.
Transport of Hazardous Substances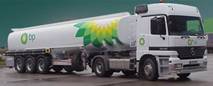 The transport of hazardous substances on land is covered by the Land Transport Rule – Dangerous Goods 2005.