Transportation
The main transportation networks in Northland are roads, rail, coastal shipping and air. The roading network consists of State Highways 1, 10, 12 and 14, all of which are sealed, a series of major arterial routes and urban roads, which are mostly sealed and several windy rural roads, of which approximately 70% are unsealed.
Private vehicle is the main form of transport used by people in Northland, due to a limited public transport system and the expansive nature of the region. Approximately 87% of the region's households have access to at least one motor vehicle (Statistics NZ 2006), as shown in figure 8 (below).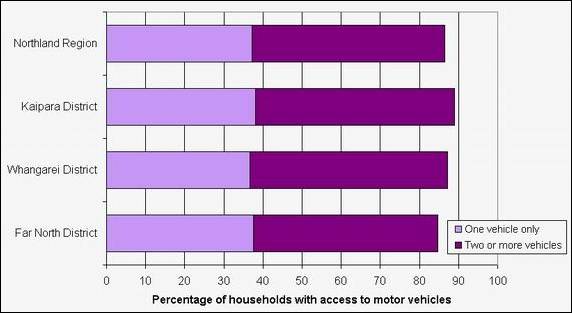 Figure 8: Percentage of Northland households that have access to one or more motor vehicles (Statistics NZ 2006).
Northland's rail network is currently limited to Dargaville through Waiotira and Otiria (near Moerewa) through Whangarei, including spur lines to the old Port Whangarei and the Kauri dairy factory north of Whangarei. A spur line to the new Port Whangarei at Marsden Point is now proposed. The major port facilities in Northland are at Marsden Point in the Whangarei Harbour. There are three commercial airports within Northland, at Kaitaia, Whangarei and near Kerikeri.
More information on Northland's transport network is available in the transport chapter of this report.
Waste management
Solid waste
There are currently three waste disposal sites operating in the Northland Region at Ahipara and Russell in the Far North District, and Hakaru (near Mangawhai), in the Kaipara District. The balance of refuse generated within the Far North and Kaipara Districts is transported to Redvale landfill in Auckland. The Re:Sort transfer station and recovery park in Whangarei accepts solid waste from the Whangarei District for compaction and transfer to Redvale Landfill in Auckland.
More information on solid waste disposal and recycling is available in the solid waste management chapter of this report.
Wastewater
The majority of sewage wastewater generated in Northland is collected and treated in communal wastewater treatment systems that are owned and operated by the three district councils. These systems generally consist of a sewer system, with pumps, which discharge into an oxidation pond. The treated effluent is then discharged into a wetland prior to entering natural water bodies. Currently there are 29 Municipal sewage discharges in Northland.
However, a significant proportion of domestic wastewater, particularly in the Far North and Kaipara districts, is discharged "on-site" on individual properties. It is estimated that there are approximately 20,000 on-site systems in Northland, servicing around 30% of the population.
More information on wastewater treatment is available in the surface water quality chapter of this report.
Energy and electricity
Almost all electricity supply to Northland enters from the south through Transpower's Otahuhu substation and is carried north by high voltage overhead transmission lines passing through Mangere, Mt Roskill and Henderson districts, and linking to Albany and the north.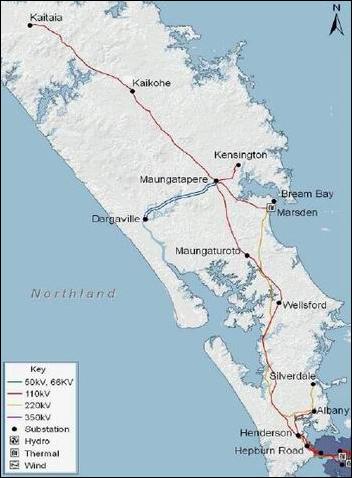 Northland is supplied from the South by the 220kV double circuit Henderson to Marsden A transmission line and the 110kV Henderson to Maungatapere A line, as shown in figure 9 (right). From Maungatapere there is a 110kV double circuit line to Kensington and a 110kV double circuit line to Kaikohe that carries on as a single 110kV single circuit line to Kaitaia. There are also two 50kV single circuit Maungatapere to Dargaville lines.
Northland currently has two generation plants, Ngawha Geothermal generating 15MW (has consent to expand to 25MW) and the Wairua Hydro plant which generates 11MW. Northland has several further proposals for wind generation and a proposal for tidal generation but these have not been committed to yet.
Figure 9 (right): Map of electricity lines (Transpower NZ 2007)
Northland is currently able to generate only 5% of its energy demands and therefore gets the majority of its electricity supply from the National Grid (electricity which is generated in the southern parts of the North Island and the South Island). Northland is very reliant on a secure supply of electricity being maintained through Auckland city.
This is a concern as Northland electricity demands in 2017 are expected to exceed 1050 MV as shown in figure 10 (below). Figure 10 shows Northland's forecast demand for both a medium (expected) and prudent forecast (which represents a 10% probability of exceedance of expected growth).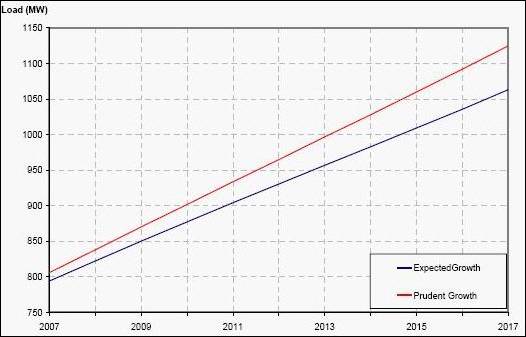 Figure 10: Expected growth in electricity demand for Northland (Transpower NZ 2007).
The stability of supply is also a significant issue for the Northland region. Voltage instability has serious implications for Northland's major industries such as the New Zealand Refinery and Golden Bay Cement. An example is recent instability affecting the intermediate pumps in the refinery pipeline which prevented any product from being sent down the pipeline and caused product storage problems at the refinery. This is a significant issue that very nearly required suspension of the refining process and fuel production. Interruptions to fuel production and supply have the potential to cripple all activities within the Auckland and Northland region that rely on any type of fuel.
A recent study into renewable energy generation by the Energy Efficiency and Conservation Authority (EECA 2006) identified the following types of potential renewable energy within the Northland region:
· Mini, small & medium scale hydropower.
· Wind power.
· Ethanol (derived from low-grade forestry).
· Wave and Tidal energy.
· Significant potential for solar thermal (hot water) systems and passive solar use in buildings.
Telecommunications
The telecommunications network in Northland consists of six major exchanges, at Whangarei (2), Dargaville, Kerikeri, Kaikohe and Kaitaia and another 41 smaller exchanges. The majority of these 47 exchanges are now digital. There are also various other networks available to Northland including the cellular telephone, mobile radio and paging networks.
The majority of Northland's households (82%) have access to a telephone, while far fewer households have access to the internet (49%), as shown in figure 11 (below). In Northland internet use is lower than the national average due to current limitations with broadband capacity (NRC 2006) and cost.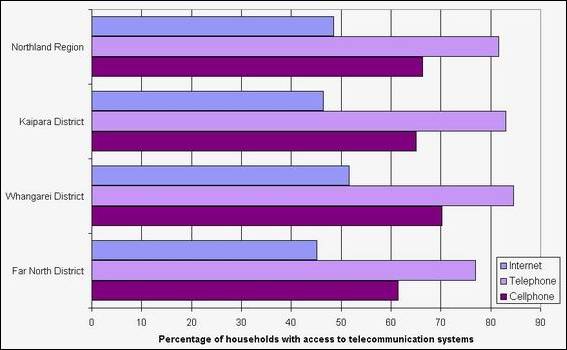 Figure 11: Percentage of households with access to telecommunication systems including internet, telephone and cellular phone (Statistics NZ 2006).