Introduction
Northland has an abundance of rivers and streams. Many of these are relatively short and drain small areas of land, called their 'catchment'. The Wairoa River near Dargaville is the region's largest river and drains 29% of Northland's land area. Most of Northland's major rivers flow into enclosed harbours, rather than into the open coast, so they have a big influence on water quality in these areas.
Water quality in our rivers and streams is affected by the direct release of contaminants into the water from such things as industrial discharge. They are also affected by the indirect release of contaminants into the water, for example, from rainfall run-off carrying contaminants off the land. Water quality is also affected by pest plants and animals and environmental incidents, such as oil spills.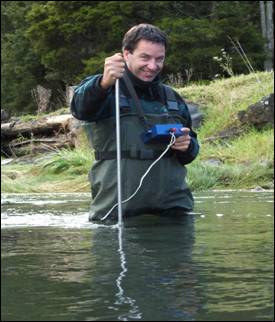 Photo: Regional Council Hydrology Monitoring Officer, Alan Bee, gauging water in the Opouteke River.