Within this section…
Landfill Monitoring
As a result of the Resource Management Act 1991, the vast majority of small, and often poorly planned, rural tips (landfills) in Northland have now closed. In most cases, these have been replaced with Refuse Transfer Stations.
With the recent closure of Hakaru landfill in the Kaipara District, there are now only two operational landfills in the region at Ahipara and Russell, both of which are located in the Far North District. All operational landfills are monitored on a 6-monthly cycle, whilst all closed landfills and Refuse Transfer Stations are visually inspected every year.
Surface water, groundwater and sediment samples are collected from sites adjacent to all operational landfills. These samples are then analysed for a range of parameters, including general water quality indicators and potential contaminants (such as heavy metals). In addition, organic scans are carried out annually on samples of landfill leachate, to screen for the possible presence of pesticide residues and other contaminants.
All landfills monitored in 2007-08 were within their specified resource consent limits and there was no evidence of any significant contamination to nearby waterways. For further information on compliance rates, please also refer to the section entitled "Environmental Compliance" within this Annual Monitoring Report.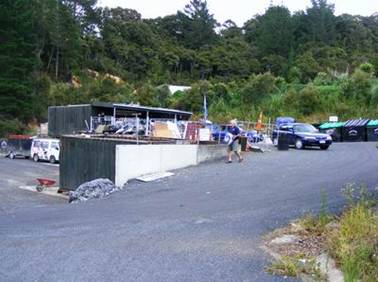 Whangae waste transfer station and remediated landfill site
Waste Minimisation
Waste minimisation is about preventing waste at source through the efficient use of raw materials, energy and water. Waste minimisation involves action on several fronts:
· People
Many reductions in waste can be achieved through better "housekeeping". It is essential that people are aware of the issues surrounding waste and are motivated and trained to prevent it.
· Systems
A systematic approach to measurement and control highlights deficiencies and problems, enables targets to be set and maintains levels of efficiency.
· Technology
Investment in new technology can improve productivity and reduce waste generation, leading to immediate paybacks.
Waste Minimisation at the Northland Regional Council
NRC has in place a Council-wide 'Waste Minimisation Strategy'. The aim of the strategy is to promote recycling within the Council and to encourage waste minimisation throughout the organisation.
NRC has had a recycling system established for over 4 years which includes recycling bins in the lunchroom and outside barbeque area, and paper recycling bins in photocopier rooms and in peoples work areas. All staff take an active role in recycling paper, cardboard, all types of glass, aluminium cans, plastic bottles, batteries, toner cartridges and food scraps.
A comprehensive audit of NRC's business operations and offices has not yet been undertaken but it is planned to happen in the near future. The audit will look at:
· Ancillary materials - materials used for cleaning and maintenance.
· Consumable materials - paper, toner cartridges and other office consumables.
· Packaging materials used to package and transport goods.
· Energy - power consumption and fuel usage.
· Water usage.
· Solid waste.
· Costs associated with waste removal, for example, skip bin and other wastes by waste management contractors; and
· Quantifying how much money is spent on each of the resources listed.
Waste Minimisation in the Community
Waste minimisation is just as important in households as it is in business or industry. There are several ways you can reduce the amount of rubbish that your household produces:
· Recycling
Both the Whangarei and Far North District Councils have kerbside collection of recyclable materials in place. Recyclable materials include paper, cardboard, all types of glass, aluminium cans and some types of plastic bottles and containers. The Resource Recovery Park in Whangarei, transfer stations and the two remaining landfills in Northland all have recycling facilities. In addition the Kaipara District Council has recycling facilities at both the Dargaville and Hakaru closed landfill sites. Contact your local District Council for more information.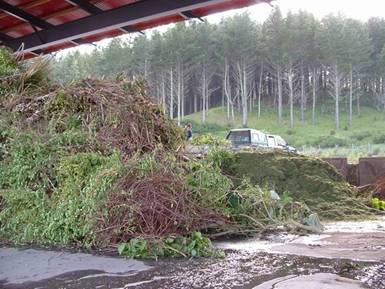 Greenwaste recycling facility
· Green waste
By creating your own composting system at home for green waste and food scraps you can significantly reduce the amount of solid waste that will need to be disposed of in a landfill. For more information on developing a compost heap in your backyard, contact your local District Council or check out the website below for the 'Reduce Rubbish' campaign.
· Environmental awareness as a consumer
By being aware of packaging when shopping you can significantly reduce the amount of waste produced in your home. Try to buy products with minimal packaging, recyclable packaging or where the product to packaging ratio is high. For example, there is less packaging for a two-litre bottle of milk than 2 one-litre bottles of milk. Use boxes or reusable bags for grocery shopping rather than plastic bags and support companies with the 'Environmental Choice New Zealand' label.
There are many helpful tips on how you can minimise the rubbish your household or business produces at the following website: www.reducerubbish.govt.nz
Waste Minimisation Act 2008
The Waste Minimisation Act is due to gain Royal Assent in September 2008.
What is the Waste Minimisation Act?
· Levies all waste disposed of in a landfill at, initially, $10 per tonne;
· Assists and, when necessary makes, producers, brand owners importers, retailers, consumers and other parties take responsibility for the environmental effects of their products; and
· Clarifies the roles and responsibilities of territorial authorities with respect to waste minimisation.
Key Points of the Waste Levy
· The waste levy will come into force on 1 July 2009;
· The levy is initially set at $10 per tonne. This is estimated to generate $31million per year to improve waste minimisation;
· Landfill operators will have to pay the levy based on the weight of material disposed at landfill, but they may pass this cost onto households and business;
· Households and business can minimise payment of the levy by reducing, reusing and recycling as much waste as possible, and thus keeping the amount of rubbish to a minimum. The revenue generated by the levy will be used to make it easier to reduce, reuse and recycle;
· Half of the money that is generated by the levy will go to territorial authorities, on a population basis, so that they can improve waste minimisation in their area;
· The remaining 50% (minus administration costs) will be put into a contestable fund. Local government, communities, businesses and other organisations can apply for funding from this fund for waste minimisation activities; and
· The Minister for the Environment will review the levy in 2011 and then every three years to see whether it is effective and adequate.
Product Stewardship
· One of the key elements of the Waste Minimisation Act is the principle of product stewardship to reduce waste from products;
· Product stewardship means that producers , brand owners, importers, retailers, consumers and other parties take responsibility for the environmental effects of their products-from "cradle-to-grave"; and
· Product stewardship is based on the idea that polluter pays, rather than the ratepayer, taxpayer or the environment.
Examples of types of product stewardship
· Take back schemes where manufacturers, brand owners, importers and /or retailers accept a product back for recovery or disposal at the end of its useful life;
· Deposit/refund schemes where a consumer receives a refund of a deposit when they return the product for recycling or disposal at the end of its useful life;
· Labelling to inform consumers about the environmental harm caused by product during its lifecycle, how to avoid or reduce that harm, provisions for recycling, or safe disposal of the product at the end of its useful life; and
· Product design requirements to reduce the waste produced and encourage recycling.
For more information on the Act, go to http://www.mfe.govt.nz/laws/waste-minimisation.html.