The Telemetry Network
Within this section…
The Northland Regional Council operates a radio and cellular phone telemetry network comprising of 17 rainfall and 27 water level stations from the hydrometric network. These telemetered sites provide a real-time picture of the state of Northland's water resources during both drought and flood conditions. The map below shows all the telemetered hydrometric stations operated by NRC in Northland including those operated by NIWA, Whangarei and the NZ MetService.
During periods of extreme rainfall, the telemetered sites play an important role in ensuring that both the Civil Defence and the public are kept informed (via media releases) of flooding in Northland. During periods of drought, water levels are monitored and, when a low threshold is reached, a low flow-gauging programme is undertaken in the affected river catchments. These manual measurements enable the flow to be accurately determined and are used to monitor water usage. During 2005-06, a total of 124 flow measurements were carried out in the region, mainly between low and mean flows with the exception of a series of flood gaugings carried out in the Awanui catchment for flood modelling purposes. The photograph below shows flood gauging in Awanui River in November 2005.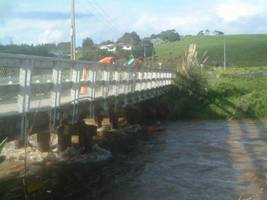 Future Additions and Changes to the Telemetry Network
A new telemetered rainfall station is to be installed on the east coast at Oakura Bay. At present rainfall data coverage in the east coast area of Oakura and Helena Bay is not adequate. Considerable spatial variation exists between the closest inland rainfall station (at Puhipuhi) and the sites monitored as part of the summer recreational bathing water quality sampling programme. In order to adequately interpret the water data from these bathing sites, accurate local rainfall data is required.
Five new telemetered rainfall stations are to be installed at locations around 'at risk' aquifers. A review of the groundwater network indicates there are five 'at risk' aquifers where there is no localised rainfall data to show the recharge effects on groundwater levels. These include Mangawhai, Poroti, Tara, Ruawai and Coopers Beach.
In the 2005-2006 financial year seven water level sites; Opua, Waiotu, Mangere, Purua, Mangahahuru, Poroti (Waipao) and Aupouri Peninsula (Selwyn Swamp), were to be upgraded to cellphone telemetry. Of these seven sites only two have been upgraded to cellphone telemetry. The remaining five will be upgraded early in the 2006-2007 year.
Four hydrometric water level stations will be upgraded to telemetry next financial year. These include stations on the Rangitane, Waiharakeke, Hikurangi, Waihoihoi and Waionehu Rivers. New telemetered dataloggers will be installed at the Marsden Point tide station and at the water level stations on the Mangakahia and Ngunguru Rivers. A cellphone telemetered rainfall site is to be installed at Opononi to provide better regional coverage of rainfall distribution patterns during high intensity rainfall events.
By the end of the 2006-2007 year, 82% of the hydrometric automatic stations will be telemetered.
Hydrological Databases
The Northland Regional Council has a comprehensive database for storage of hydrometric data, which includes rainfall, water level, flow and some climate data. Data is stored as time dependent data (TIDEDA) on the council archive and is available for use within three months of collection. Data from the Northland Regional Council's hydrometric database is transferred to the NIWA National Hydrometric Database in Christchurch on an annual basis.