Story
Plants for the dunes
On 26 June a truckload of joy arrived at a nursery. Like any new arrival, this one is greeted with delight. Nearly 9000 native plantlings have arrived, ready to return to the sands they came from.
These are no ordinary plants. They are spinifex and pīngao, native dune plants, "ecosourced", or grown from seed collected from around Te Taitokerau and nurtured into young plants strong enough for the task that lies ahead. They will be planted on dunes around the region by volunteers and kaitiaki from CoastCare groups, hapū and schools and they will help protect and restore the dunes are home to unique plants and animals and provide a vital buffer between the land and the sea.
Native sand-binding plants like spinifex and pīngao play an important role in natural dune formation. They trap sand, building up dunes to help them reduce wind and wave erosion of the beach.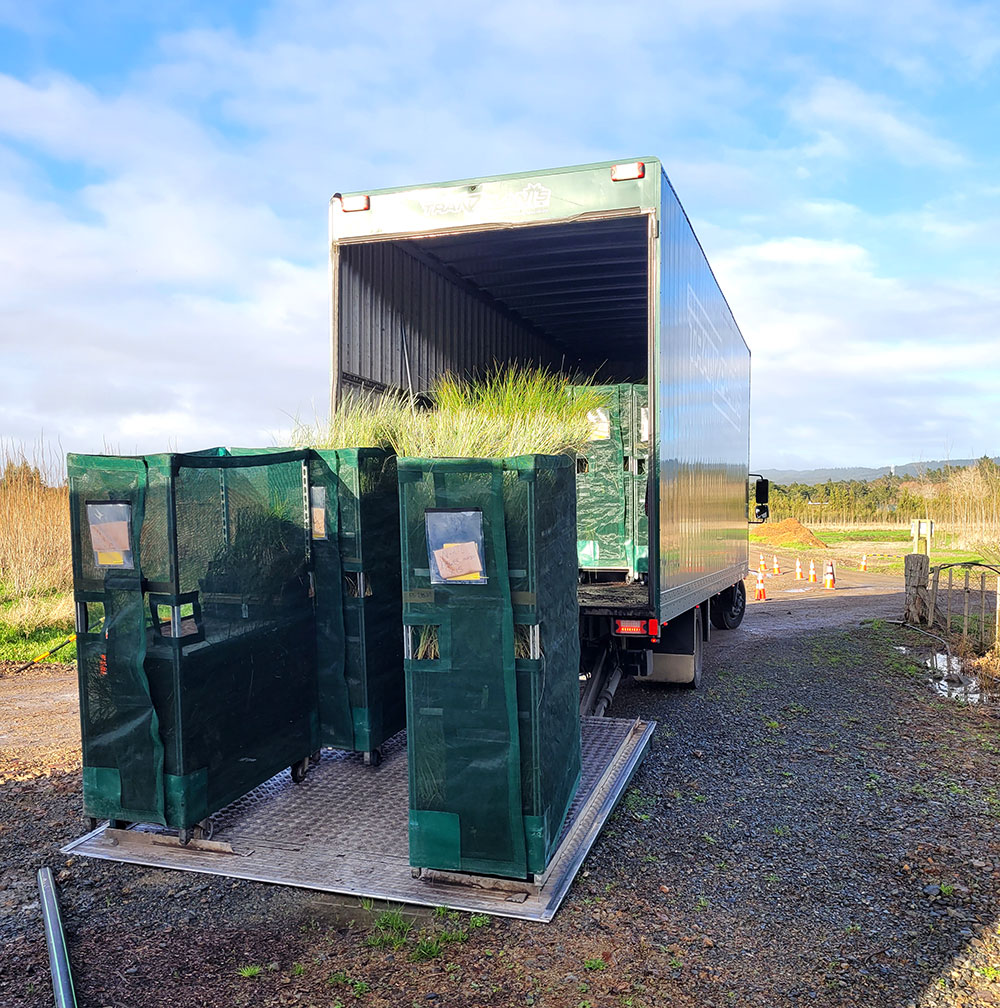 Ecosourced plants are grown from seed collected in a specific local area and then returned to that area for planting, to ensure they are adapted to local conditions.
CoastCare groups, individuals and communities collect seed from naturally occurring vegetation in their local area. The seeds are stored in paper bags and then sent to specialist nurseries for propagating, or growing, into plants strong enough to be planted to restore dunes in Te Taitokerau. The process is difficult and time-consuming - each spinifex seed ball must be pulled apart by hand and sorted to get to find the viable seed. The seedlings are difficult to grow, being susceptible to climatic changes and prone to excess moisture.
On 26 June, 8861 plants arrived at NRC's Poplar Nursery in Mata, where they are stored until they're taken to sites for planting. The ecosourcing process means the plants are carefully allocated to return to the area from where their seed came. Staff at the nursery care for the plants, watering and tending them, until it's time for them to leave and travel 'home' to where the seed was collected from. Planting days will be held over winter at 14 locations.
The growing season has been tough on seedlings this year, with wet weather impacting their survival. 2,600 seedlings, just under 25%, were lost. Usually around 15,000 plants are put in the ground each year through the CoastCare Te Taitokerau programme.
Laura Shaft is the CoastCare Coordinator at Northland Regional Council and is responsible for the winter planting operation. Laura says; "replanting sand-binding native plants is an important element of the work of CoastCare groups, alongside weed control and protecting from damage by feet and wheels. Protecting and restoring sand dunes helps retain the natural character and biodiversity of our beaches, whilst helping reduce impacts of coastal erosion".
There are groups throughout Northland involved in CoastCare work, from Ahipara to Whananaki, Baylys Beach to Tern Point, Mangawhai. These local community groups are taking action to protect their beaches and the biodiversity they support. Winter planting days will be held this season between June and August, dates that are confirmed so far are:
4 July

– Ruakākā Wildlife Refuge (Bream Bay Coastal Care Trust)

18 July

– Taipa with Taipa Beach Improvement Society and Taipa Area School

19 July

– Ruakākā Dune Lake (Bream Bay Coastal Care Trust)

22 July

– Matapōuri with Te Whānau a Rangiwhakaahu Hapū and DOC

25 July

– Ahipara with Ahipara School and Ahipara Takiwā

3 August

– Long Beach with Russell Landcare Trust and Russell School
Anyone who wants to help protect and preserve Te Taitokerau's unique and special coastline can join a CoastCare group. If there isn't one in your local area, you could set one up with others in your community. You can find out more information at: www.nrc.govt.nz/coastcare or email the CoastCare Coordinator at: [email protected]
More information on sand dunes and dune plants, including ecosourcing plants and seed collection, can be found at: www.nrc.govt.nz/sanddunes