Story
Protecting Northland's biodiversity
More than half a million dead animals across Northland isn't usually something to celebrate. But this predator body count is crucial to boosting kiwi survival rates in the wild and is helping bring back birdsong and restore forests across Te Taitokerau that were once close to collapse. It's community work supported by Northland Regional Council and Kiwi Coast and is an approach that is clearly working.
Established in 2012, Kiwi Coast's goal is to enable and link grassroots pest control projects to help native forests and wildlife to flourish, with a special focus on Northland brown kiwi. In that time the collaborative initiative has grown to involve more than 200 community-led conservation projects involving iwi/hapū, schools, forestry companies, government agencies and other organisations. Collectively, over 240,000 ha of land in Northland is now under active management, and the momentum shows no sign of slowing down.
Kiwi Coast strategically supports projects on the ground with the likes of predator traps, skill-building workshops, monitoring and access to professional trappers. A massive 591,584 animal pests have been trapped by Kiwi Coast groups and projects since 2013. In 2021 alone, 99,126 animal pests were killed – which is vital to the survival of kiwi, given a mammoth 95% of kiwi chicks are killed before they reach their first birthday.
The regional council has been a key supporter of Kiwi Coast for several years. The two organisations renewed their five-year formal working partnership in mid-2022, and councillor Geoff Crawford, who chairs council's Biosecurity and Biodiversity Working Party, says the regional council contributes $201,422 annually of rates money to help support Kiwi Coast.
"The security that comes from council's funding means Kiwi Coast can employ two full-time coordinators, and primarily focus on delivering conservation outcomes instead of chasing short-term grants. Regional council staff also work on the ground, helping with trapping workshops and sharing our expertise around kiwi monitoring and handling," says Crawford.
The work is paying off: brown kiwi are no longer endangered in Northland. Call-count monitoring shows that kiwi in managed Kiwi Coast areas are increasing, bucking the national trend of a 2% decline.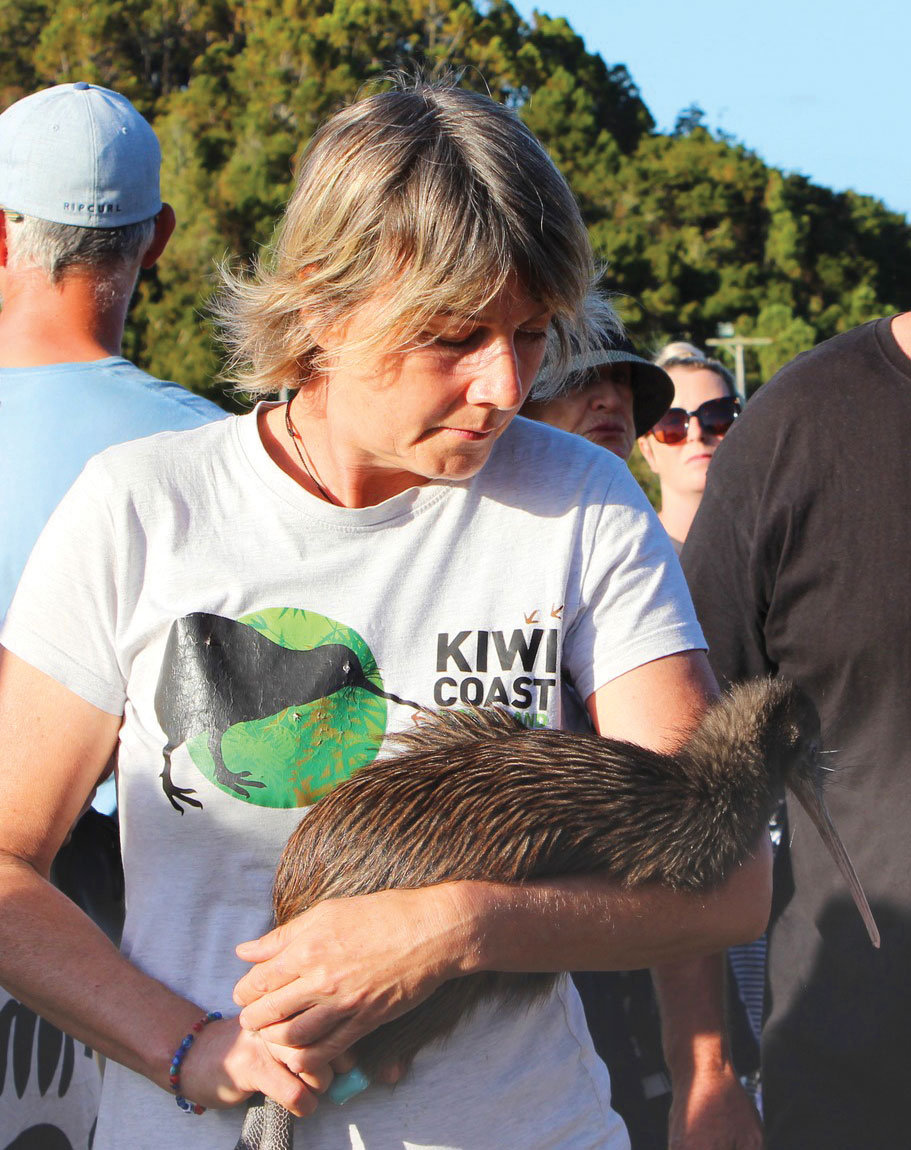 ---
Linking conservation groups across a landscape creates far better results than individual pockets of mahi – and Kiwi Coast's ultimate goal is to create New Zealand's first kiwi corridor, connecting kiwi 'safe zones' from Mangawhai to the Aupōuri peninsula. Having a growing number of kiwi safely roaming Northland will increase the population's genetic diversity and help improve the region's biodiversity.
"We're proud to work in partnership with NRC to champion community, iwi and hapū led conservation projects across Northland", Kiwi Coast Coordinator Ngaire Sullivan says.
"With iconic kiwi as the collective flag-bearer, projects can work autonomously while part of collaborative landscape-scale pest control networks. Continuing to build wildlife-friendly corridors through Northland will not only allow tāonga species such as kiwi to roam and disperse in safety, but also help to build increasingly cohesive communities as they come together to care for their special places."
This vision dovetails nicely with the regional council's work in High Value Areas (HVA): where high biodiversity and recreational values are matched with strong community interest in pest control. Council provides advice and funding to help these communities amplify their efforts.
Each HVA has its own particular goals. Kiwi Link HVA aims to connect long-standing kiwi strongholds at Whangārei Heads and Tūtūkākā. The community behind the Piroa-Brynderwyn HVA is running many projects: organising Air Force volunteers to help cut a new section of walking track, working on freshwater management in conjunction with hapū, and involving the next generation of environmental advocates through local schools.
Whangārei Heads became the first HVA after the community lobbied the regional council to establish a targeted rate for local pest-management work. That rating model has since been rolled out across Northland. All this mahi creates benefits for other iconic species here, such as pāteke/brown teal, kaka and korimako/bellbird.
Cr Crawford adds, "The regional council is really big on community-led conservation in Northland, because local expertise and knowledge is powerful. When we work in partnership with people, on a landscape scale, the benefits for biodiversity are inspiring."
In the 500ha of Tāika/Mt Tiger Forest that NRC owns, culls of goats and feral pigs have enabled plants to grow back. A recent biodiversity survey found pekapeka tou roa/long-tailed bats, a new species of mayfly, and the rare peripatus (velvet worm).

A recently completed five-year dune lakes project has made significant progress in reducing invasive water weeds, pest fish and sediment/nutrient levels at certain lakes. This means these rare ecosystems, and the plants and fish that live in them, now have a better chance of thriving.