Story
Rare katipō a focus of new dune monitoring study
A Northtec student's research project on katipō in Te Taitokerau is part of a new study that aims to improve the health of dunes in Bream Bay and beyond.
Northland Regional Council (NRC), Patuharakeke Te Iwi Trust Board and Northtec are collaborating on a pilot study to come up with methods others can use to monitor and protect their local sand dunes. The presence of native invertebrates, such as the rare katipō, is one sign of a healthy dune.
Bream Bay was chosen because there are already environmental projects, from pest and weed control to planting, happening in different dune areas. Assessing the current state of dunes in places where work is going on versus areas where no work is occurring, and monitoring trends over time, will help identify quick, easy methods for other groups doing dune restoration work.
Northtec student Dūnyam Pepperell recently finished her final year of a Bachelor of Applied Science, majoring in biodiversity management. Little is known about the presence and density of Northland's katipō population, so her final-year research project concentrated on measuring the population at two large Bream Bay sites. She also came up with a way to estimate the density of katipō across various dunes, which will help with future dune management and protection.
Unlike the red katipō found elsewhere in New Zealand, the Northland katipō is completely black. Its bite is assumed to be just as poisonous as the red katipō, and it nests around the bases of pīngao (a native sand sedge) and kōhangatara (spinifex). Katipō also nest in driftwood, which beach-goers often take for fires, removing valuable habitat and sometimes killing the spiders.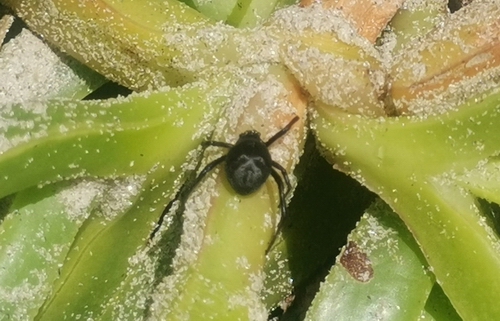 Katipō on ice plant at Uretiti.
Pepperell found there were 2-3 katipō per 1000m2 (roughly equivalent to five tennis courts) in Bream Bay.
"That isn't many. It's about 10 times lower than what people have found in the past in Wellington, or Kaitōrete Spit in Canterbury. I think the population is quite low," she says.
"Katipō is a taonga species, an at-risk species, and people are surprised when they learn we have katipō here. A lot of people haven't seen them."
The dune monitoring study involves assessing the general health of a dune system and the life in it: butterflies, birds, insects, invertebrates and plants. NRC and Patuharakeke are using tracking tunnels to measure the presence of lizards and skinks, have installed shelters for lizards, and are using wax tags to monitor for possums and rats. To assess vegetation, they record species along transect lines through the dunes, and use GPS to accurately re-assess them each year.
Patuharakeke's taiao unit regularly does dune advocacy around Bream Bay, encouraging people to stop driving over and disturbing dunes. Unit coordinator Ari Carrington says gathering data to back up their message of protecting dune habitats is vital.
"It's important to do this work because dunes are culturally significant as tohu [signs], and indicators of what's happening in the environment and within the maramataka [Māori lunar calendar] cycle. There are a lot of sensitive archaeological sites in the dunes," he says.
"An unhealthy dune has more weedy, exotic plants and non-native animals, which is a sign of what's happening further down or up the chain. It's really important for us to make sure that mātauranga [knowledge] is flowing, and assess how can we help bring it back to what it was. Even though this is concentrated on katipō, we're still taking note of what else is going on around the dunes."
NRC councillor Jack Craw, who chairs the biosecurity and biodiversity working party, says they're pleased to work with Patuharakeke and benefit from the data gathered through student-led research.
"Dunes are a precious part of Northland's ecosystem, and an important line of defence against coastal inundation. But they're also fragile, and getting accurate data about dune health is vital so we can learn the best ways to protect them," says Cr Craw.
"This pilot study will help us determine which environmental projects are most effective in which areas. It's knowledge that other groups will be able to use to keep our coastal taonga strong."