Story
Helping biodiversity flourish in the Piroa/Brynderwyn High Value Area
Significant progress has been made towards restoring biodiversity in the Piroa/Brynderwyn High Value Area, thanks to a collective of more than a dozen community-led conservation projects and support from Northland Regional Council.
Since forming in 2017, Piroa-Brynderwyns Landcare has deployed and maintains approximately 1,250 pest traps to protect resident birds such as kiwi, kākā, kererū and fernbirds from predators. The collective has also launched neighbourhood weed action groups to remove pest plants from reserves, walkways, and private land in Mangawhai, Langs Beach and Waipū Cove.
The Piroa/Brynderwyn HVA spans more than 22,000ha, from Bream Tail north to Waipū, bordered on the west by SH1. A High Value Area (HVA) is a geographic area of Northland where high biodiversity and recreational values combine with strong community interest in pest control. Northland Regional Council (NRC) provides funding and advice to help local communities carry out the work.
Building on more than 30 years of work by Marunui Conservation, Piroa-Brynderwyns Landcare brings together iwi/hapū, landowners, land managers and community members. Co-chair Ann Neill was inspired by "the phenomenal success and commitment of the Whangarei Heads conservation groups and community", and says it has been incredibly rewarding to see growing interest in similar efforts and results in the community.
"With Waipū and Mangawhai growing fast, trapping and weed workshops have been well attended and are a great place to meet new members of our communities," Ann adds.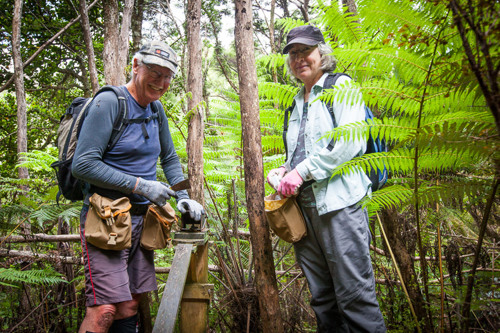 Jeremy and Maria Fleming of Maranui Conservation Ltd.
The HVA is home to threatened and regionally significant plants and animals; native Hochstetter's frogs, long tailed bats and longfin eels also inhabit the area. Kiwi have been released in the area since 2013 and are now successfully breeding. But the area still faces issues with stoats, ferrets, dogs, cats, and kauri dieback, as well as invasive weeds on unique coastal cliffs and in forest remnants.
Piroa-Brynderwyns Landcare's latest focus is Waorahi, a 200ha property purchased in late 2020 by Piroa Conservation members Bruce and Janine Copeland. Located between two Department of Conservation reserves, the property connects almost 1,000ha of regenerating bush.
"The purchase of this property provides a unique opportunity for a landscape-scale approach to pest eradication – especially targeting possums, rats and mustelids," says Ann. "As kiwi numbers at nearby Marunui increase and the birds spread out over a wider area, the adjacent land needs to be a safe haven for them."
The landowners have already made significant progress at Waorahi. Overgrown tracks, gorse, pampas and wilding pines have been cleared, and the owners aim to replant more than five hectares in native trees and plants. Preparation is underway to deploy 400 bait stations this winter.
Over the last decade, NRC has supported 58 biosecurity Environment Fund projects and three community pest control programmes in the HVA. Council provides $160,000 per year for pest animal and weed control, enabling Piroa-Brynderwyns Landcare to buy tools and resources, and pay professional trappers to assist in areas of steep terrain.
Kane McElrea, NRC's Biosecurity Manager – Partnerships and Strategy, says the community have "stepped up to the challenge in the fight against introduced pests in this area."
"The dedication of the local community to protect their environment is starting to see some exciting results. With more people getting involved every week, iconic species are protected and able to thrive in the community's backyard," says Kane.
The Piroa/Brynderwyn HVA area is expanding each year. Ann says the group is currently working on a strategic plan that will incorporate waterways, and the possibility of other native species such as kōkako and pāteke making the area their home.
"We still have a lot to learn, and lots more work to do to reach the gold standard of trap numbers per hectare and to deal with the gnarly weed patches across this High Value Area, but each member of the group has developed an area of expertise. Together, this makes our work rewarding and fulfilling."