Story
Wild Kiwi Girls : Case study
An unfortunate fatal encounter between a friend's dog and a kiwi while out walking sowed the seeds of interest in a student-led pest control project to better protect the iconic bird. 
Kaeo sisters Nina (11) and Jessica Quinlan (13), pictured here with Kaitaia-based biosecurity officer Mike Knight, are the 'Wild Kiwi Girls'; leaders of a neighbourhood pest control project supported via a $3000 council Environment Fund grant. 
Since the project began in mid-October, the plucky home-schooled duo (who check their trap lines from their horses Zahlis and Boxer) and several of their neighbours have already trapped more than 230 possums, 45 rats and a stoat over roughly 90 hectares, including 15ha of land owned by the girls' parents Katharina and Paul.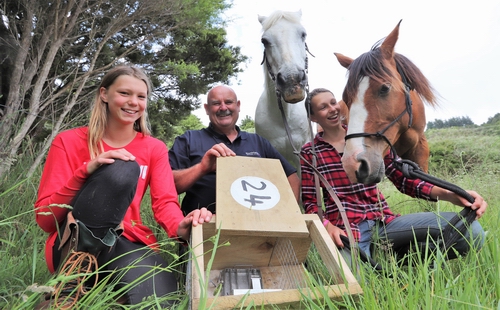 'Wild Kiwi Girls' Nina (left) and Jessica Quinlan (right), leaders of a neighbourhood pest control project supported via a $3000 council Environment Fund grant.
The sheer number of animals caught in a relatively short time has come as a considerable revelation to those involved, especially given some pest control work and trapping was already being done in the wider area with the girls suggesting plentiful local food sources and a favourable climate might be partially responsible. 
The youngsters' interest in protecting kiwi and other birds and native wildlife, including kauri snail and gecko, was sparked when a dog dashed away during a river walk and targeted a kiwi. 
Unfortunately, the kiwi did not survive the encounter, but from it was born an interest in doing more to help the environment that as well as setting up the trapping project, has seen the girls spend cold nights counting kiwi calls in Puketi Forest. 
Their successful application to the council Environment Fund netted enough cash to pay for 60 traps, including the 16 they use on their parents' land.
Under the terms of the funding agreement, the project will run until mid-2021.  All the catches involved - and their GPS co-ordinates – are recorded, with catches logged on the Trap.nz website. 
Jessica says she's interested in a potential animal-related career, while her younger sister says she's content to enjoy it as a hobby for now. 
More information about Environment Fund – and other funding and awards – is available online via www.nrc.govt.nz/funding